5 Veterans Day Resources for Kids
by Beth Werrell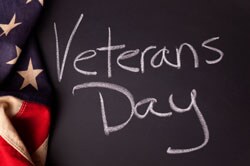 Although Veterans Day is observed every November 11th, you can take this opportunity to talk to your children about why showing our appreciation for military veterans is important at any time of the year. Veterans Day offers the perfect opportunity for kids of all ages to step beyond their classroom lessons about war and discover the impact that veterans have on our nation.
The best way to make Veterans Day real for your students is to show them ways to express their thanks to our military families. Start by exploring the history and significance of Veterans Day, then show students how they can give back to local veterans.
If you're a parent or Learning Coach who wants to educate and engage your student on Veterans Day, check out the following list of Veterans Day resources for kids.
Armed Forces Protecting America
In this segment, Tim and Moby introduce the five branches of the American armed forces, the variety of jobs in each division, and how Americans are protected by our armed forces. This engaging video is a great resource for introducing Veterans Day to younger children.
U.S. Department of Veteran Affairs
For younger students, the "VA Kids, K-5th" page offers a concise overview of Veterans Day. Visit the "About VA" page for more information on the Department of Veterans Affairs, from the VA motto to a timeline of veterans' history.
For older students, visit the "VA Kids, 6-12th Grades" page, which includes a list of famous veterans, students' stories about veterans, and VA volunteer and scholarship information.
Experiencing War: Stories from the Veterans History Project
To help make the experience of war more real to your student, direct him or her to these firsthand accounts compiled by the Library of Congress. They include veteran video and audio interviews as well as photos.
Lesson Plans and Classroom Resources
Perfect for helping students out with papers or projects, this page offers detailed primary sources, fact sheets, and bibliographies that illuminate the experience of WWII. Make sure you check out the image galleries for a firsthand look into the past.
AMillionThanks.org
If you're looking for an easy and effective way for your students to reach out directly to veterans, visit AMillionThanks.org. Follow the guidelines on this site to have your student write a letter that will be sent to a current or former soldier.
Browse through each of these links for additional videos, podcasts, activities, and games. Once your student has a solid understanding of the significance of Veterans Day, don't forget to take the next step by sending letters or volunteering. Engaging your student in hands-on activities can help him or her understand the impact that veterans have on the world, and in return your student can discover the value of giving back.
Related Posts