45 Activities for Students Who Have Finished Their Schoolwork
byConnections Academy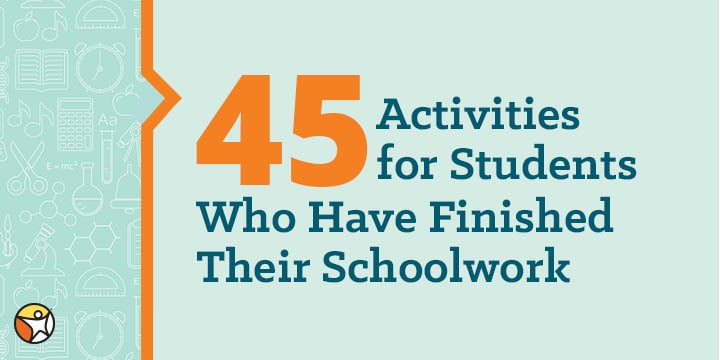 Your student has worked hard all year in their online school classes, staying motivated and engaged. If they've completed their assigned lessons ahead of schedule and before the school year officially ends, it might be tempting to start summer vacation a bit early. However, state laws require online school students to attend for the entire school year, doing educational activities related to their core courses.
If your elementary or middle school student has completed their work early, here's a list of 45 teacher-approved learning activities that will keep your student engaged in learning while satisfying the state requirements. You can supplement these activities with additional enrichment activities that are outside of the core curriculum. These are also great ideas to supplement any homeschool curriculum.
All Subjects

For any texts or quizzes where your student scored below 70 percent, review the corresponding lessons and complete additional learning activities.
Go back and view teacher comments on portfolios and work on any skills that the teacher said needed improvement.
Take a field trip to a local museum and ask your student to write about what they learned or observed.
Subscribe to the free Macaroni Kids website and receive a weekly email of kid-friendly events and activities in your area.
Language Arts
Watch a movie based on a book and then read the book, or vice versa. Ask your student to write a paragraph comparing and contrasting them. A few good choices: James and the Giant Peach, Shiloh, Call of the Wild, Because of Winn-Dixie, Harry Potter and the Sorcerer's Stone, and The Lightning Thief.
Read a biography together and then have your student write their autobiography, a family member's biography, or a memoir about a special time.
Have your student research a topic of their choice and write a research paper. Have them practice taking notes and writing a bibliography or citing sources correctly.
Read a novel with your student and ask them to write an alternate ending or a book review.
Have your student write a play to read or act out for the family. Videotape it and send it to your student's teacher!
Write or type words on paper, cut them apart, and mix up the words. See how many sentences your student can create.
Read a book together and ask your student to summarize each chapter and the entire book.
Review the year's spelling and sight-word lists. Make sure your student can spell, define, and use each word in a sentence.
Have your student write about their summer plans.
Ask your student to write a letter of advice for a future Connections Academy® student that explains how to be successful in virtual school.
Have your student write a letter to the school's principal describing their favorite things about online school.
Write about goals for next year or after graduation. Help your student include steps for achieving their goals, setting deadlines, and a creating a plan for measuring success.
Choose a silly topic, like Jell-O, and have your student write a story about it using as many descriptive words and as much figurative language as possible.
Challenge your student to practice keyboarding skills and gain speed.
Math
Play Yahtzee.
Finish any remaining workbook pages from their online school math class.
Challenge your student to play the card game War and see who can multiply the two cards laid down faster. Think you're too advanced? Lay down three cards each and see who is quicker. Ace = 1, face cards = 10.
Create a grocery list and estimate the total bill. Have your student compare prices to see which product is a better deal. Calculate the percent or price difference of items on sale. Count back change.
Cook and have your student measure the ingredients. Have them practice doubling a recipe. Use fractions to express how much people have eaten or how much is left.
Use fruit to model math problems.
Teach your student how to calculate how many miles per gallon the family car gets.
Have your student calculate the distance your car has traveled in a day or week. Figure out the best unit to measure this distance—feet, inches, yards, miles, or kilometers. Convert the distance to each of these units of measure.
Choose a destination and have your child find the shortest route to it. Then, draw a map with a key and measurements.
Measure various objects around the house or estimate the capacity of various objects. Make it a scavenger hunt to add fun!
Have your student create book illustrations with geometric concepts covered this year.
Ask your student to create word problems or study guides for their online school classmates.
Science
Have your student research what the scientific method is, describe it in written form (noting the steps and what they're about), and complete an experiment using this information.
Look for science experiment ideas online. Perform experiments together, emphasizing the scientific process.
Borrow a Bill Nye the Science Guy episode from the library and watch it as a family.
Help your student create a science journal. They can use it to record scientific terms and write down any observations seen at the park, in your house, etc.
Have your student observe an animal in nature and write a report on their observations and research. For example, your student could research various birds, including what their calls sound like, where they live, and what they eat. Have your student draw pictures and record the sounds they make, etc.
Keep track of the weather for a week and make graphs.
Plant a garden with your child.
Social Studies
Help your student create a timeline of important historical or news events in their lifetime.
Ask your child to choose a state or country that you've never visited. Have them research and map out the area with points of interest, major cities, etc.
Pick a time period or event in history and have your student write a journal about what life was like back then. Encourage them to draw pictures of clothing, inventions, and everyday life.
Research your family history and create a family tree.
Play the game The Oregon Trail.
Have your child write a letter to a government official about a topic that's important to them.
Research a country of your student's choice and make food related to the country. This research should also include the culture's clothing, music, and arts and crafts.
Visit the U.S. government's website to learn about states, flags, the history of the U.S. government, and more!
These activities can also be done over the summer months to encourage your child to keep learning while school is out.
For additional online learning opportunities and supplemental activities for homeschool curriculum, check out these fun and educational learning game sites for elementary and middle school kids.
Related Posts