Earth Day Lessons for Young Environmentalists
byConnections Academy
3 min to read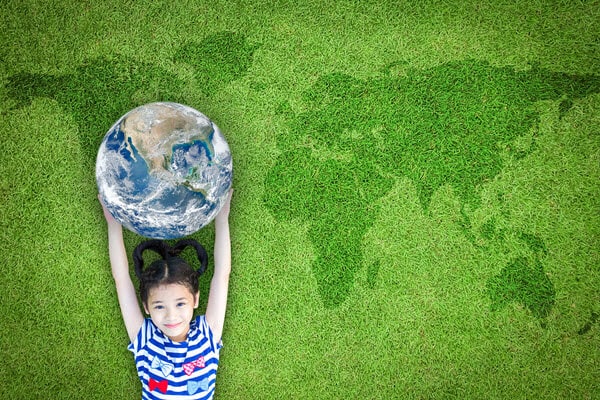 Connections Academy student Bryan W. is hooked on the big open beauty of our national parks. He has been to forty-four of the sixty designated national parks across the country, and because of the spark lit by his love of nature, he is now a Buddy Bison Ambassador with the National Park Trust.
As Bryan did, your child can discover a passion that transcends the classroom. Earth Day 2019 can be an opportunity for your young student to discover a passion for protecting the environment and, with it, learn lessons that will serve him or her well at school and in life.
What lessons can your student learn from Earth Day activities?
Getting involved in Earth Day can teach your child how to have the courage to stand up for a cause that he or she believes in, whether that cause is connected to local parks and streams or is more globally inspired like protecting pandas or the ozone. Your child can learn other important lessons, like:
Communication. In small groups, in one-on-one conversations, or in a formal debate setting, communicating effectively will help your student express himself or herself with confidence. Good communication requires listening, questioning, logical reasoning, and perspective taking, all good lessons for a generation growing up glued to mobile phones.
Collaboration. Even if your student is not the person organizing an event, he or she will see how different teams work together to achieve a goal. For example, if your community is holding an Earth Day march, coordinating needed supplies, event times, location, and volunteers requires collaboration.
Leadership. One day your student may be ready to head up an event or lead a smaller initiative within a larger event, providing an opportunity for learning about motivating peers to achieve a higher goal. This is a career skill that will serve him or her throughout life.
What earth-friendly activities can you do for Earth Day?
Join a community cleanup. There are community cleanups throughout the nation annually on Earth Day—and throughout the year. You can find one where you live. Not only will you contribute to a cleaner neighborhood, but also you will give your child the opportunity to get involved, give back, and feel good about contributing to the greater good. Your student can also work with his or her school, community program, or faith-based group to organize and lead a local cleanup.
Plant a spring garden. Getting your children outside on Earth Day and digging in the warm ground is a great way to teach earth science topics like plant life cycles and photosynthesis. By selecting native plant species for your garden, you can also attract bees, birds, and butterflies and catalog the thriving ecosystem in your backyard. Find plants native to your area by putting in your zip code.
Create a rain barrel or compost bin. Why not have your student work on a project that you can actually use around the home to contribute to reducing resource usage? You can work together on a rain barrel. A rain barrel is a large container that sits beneath your downspout and collects rainwater that you can later use to hydrate your garden instead of having to turn on the tap. Similarly, a compost bin reduces your use of natural resources by turning household waste into plant food.
To learn how you can participate in shaping your children's education with more opportunities to provide meaningful input, visit the website for Connections AcademyⓇ online public school. Or to learn about online private school, visit Pearson Online Academy 's website.
Related Posts