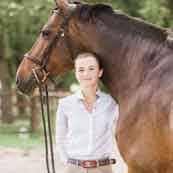 I previously attended public school and I feel Connections Academy gives me much more one on one contact with my teachers. It also allows me to work at my own pace.
My favorite subject is science. Science is my favorite subject because it is very interesting and fun. In science you get to do really fun labs and projects. I have a really good relationship with all of my teachers. This year I have really enjoyed having Ms. Bingman as my homeroom teacher. She is always very quick to respond to any question I have and is always very helpful. When I email my teachers a question I get a response back very quickly and every time I get a response back that is very helpful!
The sport that I am very passionate about is riding and showing my horses. I ride very competitively in Hunters and Equitation. My horse and I go to California every year during the show season to show and compete. Connections Academy has taught me how to prioritize and organize my schedule. The flexibility of the program allows me to work ahead so then when I am competing I don't have to feel rushed or get behind in my classes.
Most of my friends have horses and compete at the shows I do. I enjoy spending time with them at the horse shows. When I am not at horse shows I stay in touch with them by using social media."

"The thing that I love about Connections Academy is that it allows flexibility during the school year!"
— Makenna