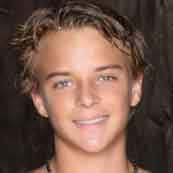 "Washington Connections Academy offers me a great online school with amazing flexibility that allows me to keep up with my courses while training for tennis. The flexibility of the WACA program works perfect for me. I have attended regular school all of my life until sophomore year of high school. Connections Academy is less time consuming, and way more flexible. It is definitely 'more fun' than regular schools.
I do have a pretty strict schedule, and with tennis and school it gets filled up, but whenever I have free time, I just do other things I love to do. I am passionate about tennis, skiing, and instruments. Tennis is the sport I chose to pursue professionally, so I'm definitely very passionate about it. Skiing is just something I've been doing since I was 5. I started down south in the Argentinian mountains and sort of skied my way up the continent as my family moved locations. I also play acoustic guitar, drums, and saxophone.
My favorite subjects are history, and psychology. US history is really amazing, I love how this country evolved into this great place. Psychology is just so interesting. I have a great relationship with all of my teachers; they are nice and really care about my learning.
I stay in touch with all of my friends from Park City, UT, and a couple of friends from Argentina and Uruguay. I moved from UT to WA a year ago, so I'm relatively new in town, and therefore haven't made a lot of friends here, but I plan to in the near future.

"I plan to pursue my professional tennis career after graduation, while attending an online college. I'm still not sure what I'm going to study, but I'm excited to find out!"
— Juan