What Can You Do with Leftover Halloween Pumpkins and Gourds?
by Beth Werrell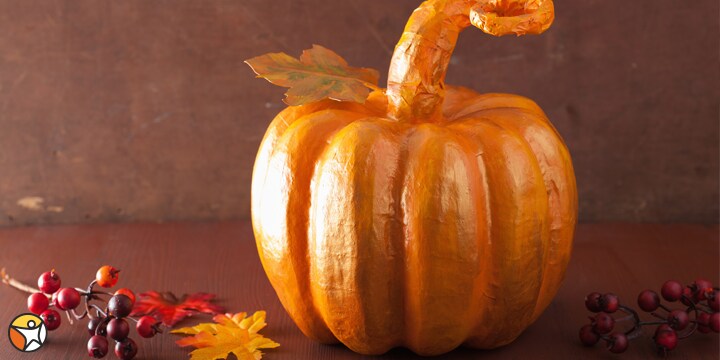 After the candy rush from trick-or-treating has worn off, have your student try one of these hands-on learning projects that make use of pumpkins and gourds left over from Halloween.
The ideas listed below range from simple to complex, and the instructions are easy to find online for any of these projects.
1. Make a catapult for pumpkin chunkin'.
You and your student can make a small or even a large version depending on your time, tools, and energy. Here are instructions(opens in a new tab) for a working catapult that can launch a small gourd.
2. Bake the seeds @ 350 with salt and olive oil from a healthy, tasty treat.
Scooping out pumpkin seeds, washing them, then spicing and baking them in the oven is a great activity for an older elementary school–age student. Check out recipes here(opens in a new tab).
3. Construct a squirrel feeder box and add pumpkin seeds
Squirrels are active, intelligent, and feisty. You can attract hours of action to your yard by constructing your own squirrel feeder box(opens in a new tab). With a small jar, wood, screws, and a few simple tools, you can make one and fill it with pumpkin seeds, acorns, peanuts, etc.
4. Make your own pie filling.
Smaller sugar pumpkins are the best for making pie. Check out a recipe that uses fresh pumpkin here(opens in a new tab).
5. Scoop out the insides and make a birdfeeder.
Cut the top completely off your jack-o'-lantern, let it dry out, then drill holes to attach rope or twine to hang it from a terrace or in a tree. Once you fill it with seeds, the birds will flock to this tasty treat!
6. Donate pumpkins to your local farm or zoo. Call ahead first!
Zoo and farm animals feast on pumpkins. Do a good deed with your leftovers by calling your local animal sanctuary, zoo, or farm to see if they accept fresh donations.
7. Build a compost bin for your rotting pumpkins
Whether you have a lot of experience with power tools or very little, you can find a compost bin project that fits your skill level and shows your student the value of composting for conservation. Check out 23 project ideas(opens in a new tab).
8. Do please feed the the wildlife: deer, bunnies, squirrels, and more will love it!
You can also chop up your gourds and leave them, seeds and everything, for all the critters that roam in the night. From deer to birds to squirrels, you'll get a parade of wildlife in your yard!
9. You can make your own pumpkin spice latte!
If you have 10 minutes, fresh pumpkin, and common kitchen spices, you can skip the line at your local coffee shop and make your own pumpkin spice latte(opens in a new tab). Go caffeine-free for growing minds and bodies!
10. Decorate your Thanksgiving table with gourds.
Gather up those little gourds for the Thanksgiving table. They last an incredibly long time if not cut into and add to a festive tablescape.
Related Posts