Solving the Puzzle of Summer Learning Activities
by Beth Werrell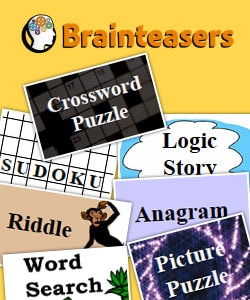 Finding ways to keep young minds active and entertained all summer long can be challenging. Kids may have boundless energy for swimming in the pool or playing tag, but they may shut down for anything that seems like "school." To help you conquer this tendency, we'd like to suggest one of our favorite secret weapons for battling summer learning loss: brainteasers!
Whether it's a riddle, a crossword puzzle, or Soduku, a brainteaser is a fantastic way to exercise your child's critical-thinking and problem-solving skills. And kids love them!
Naturally, brainteasers are a time-honored tradition in schools. Teachers often create their own puzzles based on the curriculum to make learning fun. At Connections Academy, there's even a Brainteaser Club that offers entertaining weekly puzzle sheets for students in all grades. Download a free brainteaser worksheet from this club and try it with your family!
Younger kids often respond well to riddles and puns—the sillier, the better! (And they enjoy trying them out on friends, siblings, and relatives, too!) The best part is that they rarely realize that they're practicing language arts skills. As reading abilities improve, children may enjoy word searches, simple crossword puzzles, and anagrams, all of which improve vocabulary and comprehension.
The same tactics work for older kids, too. Make sure the puzzles you offer are difficult enough to provide a challenge, yet not so hard that your child gets discouraged. Logic grids, crosswords, Sudoku puzzles, and trivia quizzes are available in all levels of difficulty.
Here are a few online resources to get you started:
Families looking to switch to a virtual school may also be interested to learn that by enrolling early, they can be part of Connections Academy's Summer Connections program. Summer Connections offers more ideas for summer learning, including ways to explore the Brainteaser Club and other great clubs and activities.
Of course, if your teen needs to catch up on high school credits or if your younger child could benefit from more structured summer enrichment activities, you might want to consider a summer school online course. It's great way to explore if online school might be a good fit for you and your child.
However you decide to enjoy your summer, we hope you try brainteasers with your family. For the well-prepared parent, these stimulating puzzles, riddles, and games are an effective and stress-free way to sneak learning into your child's day!
Related Posts