A Focus on Resilience: Resilience and Supporting Your Child in Online School
byConnections Academy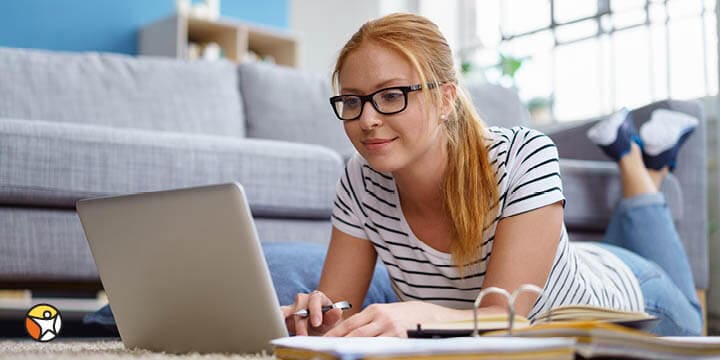 Article 4 of 4
For Connections Academy Families
By Morgan Champion
The Connections Academy Resiliency series has focused on defining resilience, addressing what we as adults need to do to foster resilience, and providing some tips for priming students for these experiences.
As a caretaker of an online school student, you may be asking yourself, "What's next? What can I do within the Connections Academy community to make sure my student gains these skills before leaving high school?"
As a caretaker of an elementary or middle school student,
you are intimately involved in the day-to-day learning goals your student sets. Once students reach high school, they become more independent in their educational journey; however, they still need your support. It is important to pay attention to what factors can help or deter your student from gaining these resiliency skills before college.
We have had many families share that attending Connections Academy has not only boosted their student's grades/GPA, but it has alleviated them from the stressful situations that brick-and-mortar schools sometimes encourage (negative social media interactions, bullying, or negating feelings of acceptance) and has improved their mental health overall.
Connections Academy Activities That Support Resilience Skill Building
Guidance Lessons
Connections Academy school counselors cover a wide variety of topics during guidance lessons. From learning how to be a good friend to understanding your path after high school, these topics are important for your student's self-awareness, communication skills, relationship building, and citizenship. Talk to your school counselor about the lessons coming up next!
Small Group Counseling
These small group sessions focus on different topics, depending on the need at the individual Connections Academy school. Reach out to your school counselor to learn more!
Learning Coach Success Series
These sessions are focused on information you need to be the best Learning Coach you can be! From college planning to learning how to navigate Connexus®, leave these LiveLesson® sessions feeling prepared to tackle your daily role as a Learning Coach!
National LiveLesson sessions
These engaging presentations for middle and high schoolers can increase your student's cultural awareness, build communication, and boost creativity! The synchronous sessions are led by school counselors across the country to encourage student participation and awareness. Some of the topics include leadership, accountability, initiative/self-direction, communication, teamwork, and adaptability. We record each LiveLesson, and they're readily accessible in the Virtual Library at any time. Students have the opportunity to ask questions and participate in the discussion while also interacting with their peers.
Clubs & Activities
We offer 16 national clubs, ranging from art to robotics to gaming and leadership.
And under typical circumstances:
Organized School Events
Some schools offer different types of events, such as study groups, community classrooms, or help sessions, so students can receive additional help with schoolwork. These face-to-face interactions are a good way for students to not only get help with schoolwork but build relationships with teachers and peers.
Field Trips
Schools organize a host of field trips related to different topics being covered. These face-to-face experiences can not only build your student's knowledge base, but increase collaboration, relationship building, and provide a safe social environment for your student.
As we recognize Mental Health Awareness Month, we hope you have found this blog series helpful, and have taken away some concrete strategies to help support the development of resilience in your student. If you have specific questions about your Connections Academy school offerings, please reach out to your student's school counselor. We look forward to the continued discussion and hearing more about how your student is building resilience skills!
Morgan Champion is the Manager of Counseling for Connections Academy Schools. In her role, she supports counselors across the country to implement best practices within their schools related to academic, social/emotional, and college and career readiness. As a previous school administrator, counselor, and teacher, Morgan is passionate about helping students develop skills to be resilient while supporting parents in fostering these traits in their children.
Related Posts