How to Prepare for State Test Taking
byTisha Rinker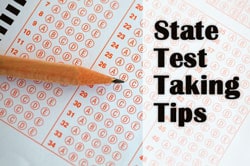 It's that time of year again. Kids all over the country are sharpening their #2 pencils and anticipating their state tests. Whether your child has a standardized test coming up in a few days or in a few weeks, these test-prep tips and strategies will help you to help him or her relax and do his or her best.
Test-Prep Ideas for Grade K–5 Students
Make testing more fun by having younger students wear a special outfit each day in the week before the test to signify a specific testing tip. This is an effective way to introduce and reinforce important testing techniques, and the element of fun it provides can decrease student stress.
Monday – wear your pajamas to signify how important it is to get a good night's sleep the night before a test.
Tuesday – wear bright, fruity colors such as orange, red, and yellow as a reminder to eat something healthy before taking a test.
Wednesday – wear your shirt backwards to remind yourself to always go back and check your work.
Thursday – wear something with words on it to signify the importance of reading each question thoroughly.
Friday – wear all black to remember to completely fill in the test circles with your pencil.
Another tip is to introduce your student to light physical activity with a simple, fun routine like this:
Do twenty jumping jacks.
Touch your toes ten times.
Do windmills for a minute by swinging your arms forward from the shoulder.
Shake your whole body for a minute.
Turn on your favorite song and dance!
Make sure you ask your student to do this the morning of the test to boost energy and alertness.
Test-Prep Ideas for Grade 6–12 Students
A great way for teens to reduce stress before the test is to exercise. But don't let them overdo it, especially if they're not in the habit of exercising regularly. Encourage your student to browse this list of indoor physical activities to find a light workout to try.
Here are some other ways for older students to relax in the week before the test.
Laugh – have fun with friends, watch a funny TV show, or play a game.
Dance – with friends or alone in your room.
Engage in a hobby – take your mind off of school by focusing on one interest, such as listening to music, reading, or playing video games.
Talk – express your opinions or concerns to your family or friends.
Breathe – take in a deep breath whenever you feel negative emotions, and practice this technique so you know how to calm down during the test.
Test-Prep Tips for Parents and Learning Coaches
The best way to help your student prepare for the test is to review the format. The more familiar he or she is with the structure, the less anxious he or she will be to face it.
Review the following tips with younger kids, and ask older students to go over them on their own:
Double-check to make sure you have the right time, date, and location of the test.
Do a relaxing activity the night before the test, and go to bed early to get plenty of rest.
Know what types of questions will be asked. Usually you will be asked a combination of multiple choice, reading passages, and written response questions.
Return to those lessons that have been pointed out as state assessment preparations, and practice some questions, especially on topics that were confusing or more difficult.
Prepare the materials you need for the test on the night before.
Read each question carefully.
Ask for help if you don't understand the directions.
Skip a question if it takes you too long to figure out. Answer the questions you know first before coming back to the skipped questions.
Try to answer every question by making the most intelligent choice you can.
Double-check your answers if you finish early.
Take the time to eat a healthy breakfast before starting the day. A well-fueled body functions better.
Bring small, healthy snacks for the breaks to maintain your energy.
How else do you help your student prepare for state test taking?
Related Posts