Helping Kids Synthesize Information for Reading Comprehension
byTracy Ostwald Kowald
3 min to read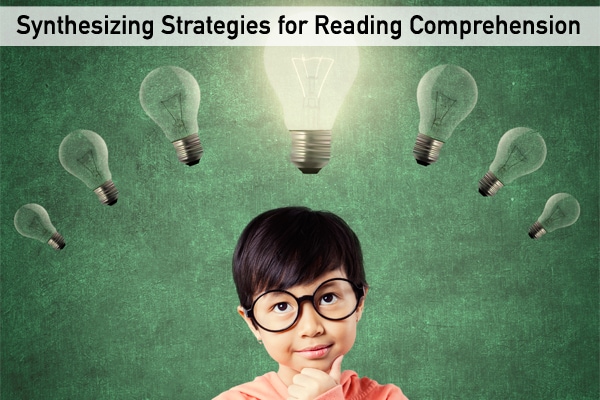 Imagine a high school senior busily putting the final touches on an English project—creating liner notes to a sound track CD for Shakespeare's Hamlet. Students use what they know about the play to find music that would fit with the plot, and then they explain their choices. Parents sometimes question the value of projects like this, but their teacher knows that for creating this masterpiece, students would need to find themes, understand characters, and apply their own background knowledge. In teaching, we call this synthesis.
Synthesis is a process involving other strategies. It's a high- level thinking skill—almost at the top of Bloom's Taxonomy. In the example above, my daughter was the high school senior reading Hamlet, pulling out the most important ideas, linking those ideas to her own background knowledge, and generating questions to ask her mother (me, the music teacher in the family). She drew from her own repertoire of Disney hits. "I Just Can't Wait to Be King" from The Lion King was an appropriate choice of a play in which the prince is looking forward to taking the throne. She also included a song she'd learned while playing in the pit orchestra in the high school production of Aida. Each and every piece of her project involved a thoughtful analysis of both Hamlet and the piece of music she'd chosen.
Learning Coaches can encourage younger students to synthesize, too. Begin by asking for a summary. What happened in the story/chapter? Can you identify the most important ideas? What did you think about that idea? In the book Caps for Sale, a timeless classic by Esphyr Slobodkina, a peddler is frustrated with monkeys who steal his caps and then mock him by imitating his actions. A reader can visualize this and recognize the man's frustration, but at the same time see the humor in the situation. Reacting, responding—both are parts of the puzzle that is synthesis.
If your student is having trouble recognizing important information and pulling ideas together, help him or her look for prompts in the text. Authors leave clues to help readers determine importance and synthesize information. Phrases like "as a result" or "in conclusion" are hints that the writer is about to wrap up a section or sum up a plot. Using these clues, a reader can stop and think, prepare to analyze, and recognize key concepts. This recognition is a major key to comprehension: a strategy that helps readers better understand the material they read.
A middle school math teacher kept his students synthesizing as the school year came to a close by having them write an ABC book summarizing the most important concepts they'd learned in the course. A Is for Algorithm, E Is for Euclid, R Is for Right Triangle—the possibilities were endless. The project kept these students thinking about math, creating something original, and practicing their informational writing skills. This ABC summary structure is adaptable to almost any type of course material, making it a handy addition to your "toolkit."
Reading together and discussing books is always a great family activity, and the ideas shared above are applicable for all ages and grade levels. Trying these approaches with your family not only shows that you value education, but also helps your students learn to understand and synthesize what they've read—and set them on the path to becoming life-long learners!
Related Posts