Online and Offline Ways to Foster Creative Thinking Skills in Your...
by Beth Werrell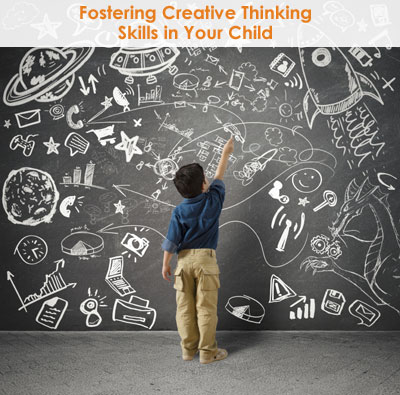 Building critical thinking and problem-solving skills is essential to learning. Fostering your student's creativity is just as important, and it can even help develop his or her analytical skills.
To make learning fun and help your student grow as a unique individual, encourage creativity whenever possible. Below are some creativity tools your student can try, as well as some tips for helping him or her be more creative.
Online Creativity Tools for Kids
One way to boost your virtual school student's creativity is by introducing him or her to creative online tools. Test some of the creativity tools listed below.
PicMonkey. This photo editing and graphic design tool is a good choice for older students, allowing them to create images and experiment with basic graphic design.
Piktochart. With an account, students can use Piktochart to display data in infographics or tell a story using images.
Wideo. Create, edit, and share animated videos with this unique platform.
ToonDoo. Use this tool to quickly make customized comic strips and cartoons.
Storybird. This platform shares images from illustrators and animators so children and adults can use them to create their own stories.
Tessellation Creator. A visual tool for grades 3 through 8, the tessellation creator exercises geometry skills by showing students how to create repeating patterns of polygons.
Adventure Story Starters by Scholastic. This interactive tool randomly generates a story idea when students spin the wheel.
Puzzlemaker. by Discovery Education. Students can create their own word searches, crosswords, mazes, and more.
It's a Mad Libs World! Fill in adverbs, nouns, and adjectives to generate some funny Mad Libs.
Music Mixer by National Geographic Kids. Students can form a virtual band by mixing different sounds and effects.
Take Creativity Offline: Creativity Tips for Kids
Online creativity tools allow students to experiment in sophisticated ways, but fostering their creativity off of the computer is even more powerful. To grow their creative thinking skills, students need to:
Start with simplicity. In a recent study conducted in Australia, researchers found that children were more active during recess when they had access to objects such as hay bales, buckets, and exercise mats than when they were at conventional playgrounds with slides and other equipment.
Remove limits. Students who have to adhere to a lot of rules are more likely to conform, or act like everyone else, than be themselves. Give your student flexibility so he or she learns to take risks and be different.
Embrace messes. It's difficult to experiment when you have to worry about keeping things clean. There's a time for being neat, but there are also times when it's okay to encourage your student to be messy.
Daydream. Letting the mind take a break from constant activity is essential for processing ideas and emotions. Many kids are overscheduled during the day and don't have enough time to simply imagine. Too much stimulation is just as bad as too much inactivity, so give your student time to think, relax, and be bored.
Spend time alone. Alone, students can explore new interests and test ideas without worrying about what anyone else thinks. It's crucial to growing as a unique individual.
Practice. Creativity can't be forced, but it does benefit from encouragement. As Jane Porter discusses in her article "How to Cultivate a Creative Thinking Habit," creativity isn't a mysterious quality that spontaneously appears. Students need to practice creativity often to make it a part of their lives.
Related Posts