The Benefits of Giving Back with Your Family
by Beth Werrell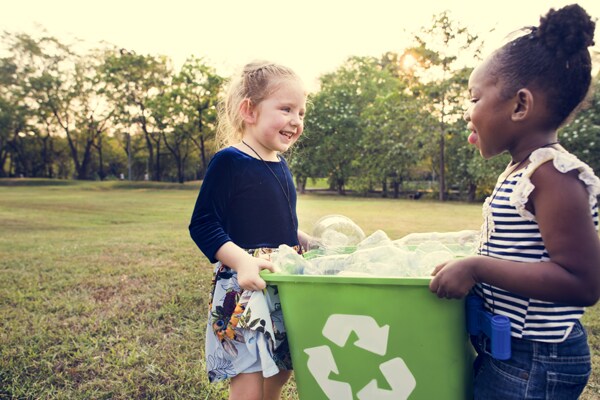 Why you should volunteer this month
The top five reasons you should give back in April
April is home to an array of holidays and celebrations. There's Easter, April Fool's Day, Earth Day, and Take Our Daughters and Sons to Work Day. There's also National Volunteer Month, which, as the name suggests, takes place the entire month of April.
National Volunteer Month was created in 1991 to promote volunteerism and celebrate the volunteers in our communities. Today, the spirit of giving back continues with people all over the country volunteering with organizations and causes that mean the most to them. If you haven't volunteered recently, what better time to get your family involved than National Volunteer Month?
We believe there are many reasons to volunteer, but we've compiled our top five reasons below:
1. Volunteering is rewarding
Can you think of anyone who has given back to their community and said, "I wish I hadn't done that?" Yeah, we can't either. That's because volunteering is fulfilling and it feels good! A 2017 study titled "Doing Good Is Good for You"(opens in a new tab) found that after volunteering, 93 percent of people reported an improved mood and 88 percent reported increased self-esteem by giving back. When you volunteer, you positively impact the lives of others as well as your own life.
Laurie Smith, a Learning Coach with a student at Oregon Connections Academy, volunteers with her family at Family Promise, an organization that helps homeless and low-income families achieve sustainable independence. Laurie said, "Volunteering has opened all our eyes to appreciate the little things in our life that we take for granted." Helping others by lending your time and talent is always a worthwhile endeavor.
2. Volunteering encourages family bonding
Volunteering as a family is a unique experience, bonding the family in ways not possible during the ordinary daily routine. Michelle Gage, whose children attend Ohio Connections Academy, volunteers with her family at organizations both near to and far from their home. In fact, every year her family travels to another state to make home improvements for the elderly. "The older children go to jobsites and build ramps, repair structures, and do roofing repairs, while the younger ones help feed and take care of the volunteers, " Michelle said. "Volunteering has become a way of life for our family and something we do all year long."
Parents should look for activities that the entire family will enjoy—even grandparents, aunts, and uncles. Brainstorm causes that are important to each family member, and then invite everyone to participate. Here are a few suggestions to get you started:
Volunteer at your local park

(opens in a new tab)


Activities might include planting trees, picking up trash, or maintaining walking trails.
Volunteer at a nearby hospital
Activities might include reading to patients, helping at the gift shop, or making deliveries to patients.
Volunteer at a food bank

(opens in a new tab)


Activities might include sorting, packing, or stacking food.
Volunteer at an animal shelter

(opens in a new tab)


Activities might include feeding orphaned puppies, finding homes for animals, or helping with administrative tasks.
Websites like All for Good(opens in a new tab) and Idealist(opens in a new tab) are great places to find additional family volunteering activity ideas.
3. Volunteering teaches great values
The beauty of volunteering is that you can get out of it as much as, if not more than, you put in. Not only do families get the opportunity to serve others and bond with each other, but also there's huge learning potential. Volunteering can help families develop technical knowledge like how to protect the environment, how to take care of animals, and how to build a house from scratch! It can also help family members hone soft skills like communication, problem-solving, and critical thinking.
Colleen Martin's daughter attends South Carolina Connections Academy, and Colleen believes they learn something new every time they volunteer together. In March, they volunteered at the National Azalea Society Convention. Martin said, "My student is able to learn what's involved in putting on a real-life event, from the planning, to the prepping, to the organizing. My student gets so much benefit from being able to learn from other people, meet new people, engage with the community, and understand the rewards of helping others and being a part of something outside of home and school." Students and parents alike are also able to see firsthand how one person can make a difference in the world.
4. Volunteering is fun
Sometimes it's hard to imagine hard work being fun, but volunteering certainly is. With a variety of volunteer opportunities across different sectors, families should prioritize finding a cause that's appealing to them. That way volunteers of all ages are engaged and excited about their work.
Andrea Champagne, Learning Coach of a student enrolled at Michigan Connections Academy, said, "My son has a passion for animals, so twice a month he goes to the Michigan Humane Society and plays with the dogs and cats. This helps the animals socialize so that they are more comfortable around people, and they get adopted faster." It is essential to love what you do. Volunteering provides families with enjoyable experiences and long-lasting memories that everyone can cherish.
5. Volunteering is easy
Anyone can volunteer. Even a young child can help by picking up garbage in his neighborhood, digging a hole for a new tree, cheering up a homebound elder, or simply petting an animal at a shelter. Volunteering is easy and accessible, especially for those who have flexible schedules like many online school families. Colleen believes that many people think they don't have enough time to volunteer, but luckily her family can accommodate it. "By attending virtual school, we're able to modify our schedule and do activities, such as volunteering, when it works for us," she explained. Families can opt to volunteer for as little as an hour, and it can be done after school or on the weekends.
Learning Coach Jami Leeth agrees that online schools provide unparalleled flexibility and freedom. Her family volunteers at art events and watershed cleanups. "We are able to spend a lot more time as a family because our daughters attend Ohio Connections Academy for high school," she said. "Not only do we have time to do our research for different causes and organizations, but also we have the availability to switch our schedules around to be present when needed."
If you and your family are as eager as we are to volunteer this month, we encourage you to get started today! The benefits are endless.
To learn how you can be more involved in your children's education with more opportunities to provide meaningful input, visit the website for Connections Academy(opens in a new tab) online public school. Or to learn about online private school, visit Pearson Online Academy 's website(opens in a new tab).
Related Posts