Fun Volcano Learning Activities for Kids this Summer
by Beth Werrell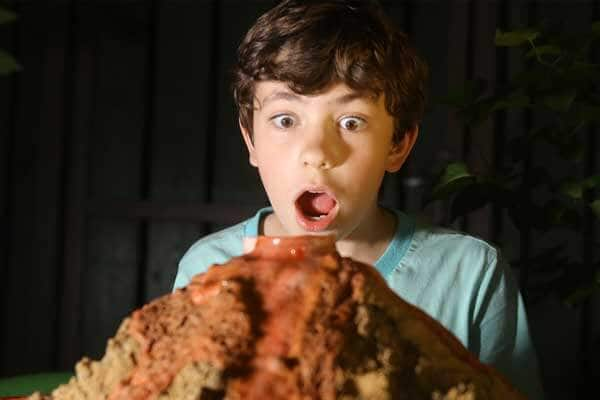 The dramatic news footage of lava flowing from the Kilauea volcano in Hawaii has fascinated many—kids and adults alike—and sparked a renewed interest in this geological phenomenon.
Why not take this opportunity to help your child better understand the different types of volcanoes and what causes them? Summer is an especially good time to study volcanoes because some of the hands-on activities can get messy, but doing them outdoors makes cleanup easy!
Here are some ways you and your child can delve into the world of volcanoes:
Watch a video or two to learn about the earth's crust and tectonic plates and how they form volcanoes. Kids elementary age and younger will enjoy this video from National Geographic Kids, while older students can learn a lot from this Science Trek video.
This collection of amazing photos of the Kilauea volcano will give students an enlightening perspective on how volcanoes interact with man-made structures. Many of the captions include links to additional articles about volcanoes, so your student will easily be able to dig deeper into the topic.
Younger students can have fun studying volcanoes with this assortment of free downloads. You'll find color-by-numbers; an "All About Volcanoes" worksheet; a printable volcano word search; coloring pages; and more.
This more in-depth volcano activity shows students what the inside of a volcano looks like (well, kind of). It will take a little more effort, but the cross-section effect is a neat way to bring this mysterious underground occurrence to light.
A volcano cake, complete with raspberry lava, is sure to be a hit. Older kids can make it on their own, while younger students will have fun creating it with a parent or other adult.
A sandbox volcano is the perfect summer learning activity. Kids are outside, they're having fun getting their hands dirty, and they're learning something to boot! Creating this sandbox volcano together could be one of your best summer memories.
Volcano experiments are fun and a good learning tool. But to really get a sense of what's going on under the earth's surface that causes volcanoes, it's helpful to also dive into the world of plate tectonics. This Graham Cracker Plate Tectonics post explains how to create (tasty) tectonics at home. There are also several interesting videos that show how to do these activities at home, including Graham Cracker Plate Tectonics Lab Demo and Plate Tectonic Activity.
For more fun and enriching learning activities you can share with your children, visit the resources page on the Connections Academy website.
Connections Academy® supports tuition-free online public schools for grades K–12 in many states. Pearson Online Academy , an online private school, is available worldwide.
Related Posts