Fun Ideas for Back-to-School Celebrations
by Beth Werrell
3 min to read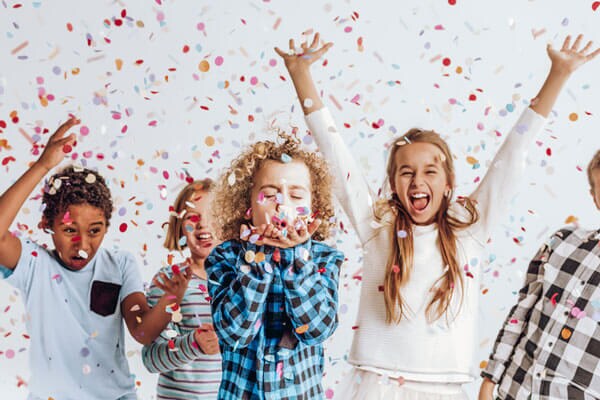 Kids and parents alike can have difficulty transitioning from the lazy days of summer back to the more structured jam-packed schedules of the new school year. Try making the back-to-school change fun with some family-oriented activities that celebrate the season and add excitement to a new year of learning.
1. Count down to the end of summer with family fun.
Even if school has already begun in your area, you can still brainstorm with your kids to make a list of enjoyable activities to do before the summer season ends! The activities don't need to be complicated or costly, just fun. Try making a summertime capsule to save your great memories. You could play in the sprinkler or have a croquet or mini-golf championship. Plan a back-to-school celebration with your favorite cousins or friends: perhaps a cookout, catching fireflies, and some flashlight tag. Or team up with some families in your neighborhood to have a bicycle race or talent show with silly prizes. Be sure to take pictures!
2. Audition tasty new school lunch menus.
Get the children involved in finding some new recipes for healthy school lunches. (Did you know that adding seedless grapes and sliced almonds makes an ordinary chicken salad special?) You might enjoy making homemade chips, cookies, or other snacks to include as a lunch box treat. Or make healthy school lunches both fun and delicious by creating your own roll-up sandwiches using flour, corn, or flavored tortillas, plus your favorite cheeses or meats. Add a salad dressing or spread and something crunchy, like nuts, pickles, or chopped apples. Be sure to give your new creation a memorable name!
3. Stage a back-to-school scavenger hunt.
Hide inexpensive school supplies such as fancy pencils, individual markers, cute erasers, crayons, treats, and fun dollar-store items throughout your home or yard for a fun back-to-school scavenger hunt. (Team up with a neighbor for more territory and greater challenge!) Give each kid a brown bag for collecting their school supply loot. You may want to provide smaller children with a head start. If the hunters get stumped, be prepared with some clues. To extend the fun, try playing nature scavenger hunt bingo, too! Finish up your back-to-school celebration with a snack and some silly prizes for all!
4. Create colorful back-to-school T-shirts.
What kids wouldn't enjoy making cool new back-to-school T-shirts? And fear not, you don't need to be an artist—there are many inexpensive, easy options. Tie-dying T-shirts requires some advance planning and adult supervision, but it isn't difficult and the results can be awesome! If that sounds too messy or complicated, your family could design T-shirts using crayons and sandpaper, create bleach-resistant T-shirt designs, or decorate them using stencils and an easy-to-use washable textile paint. Another option is to purchase printable iron-on transfers. Your kids can combine photos, type, scanned drawings, and clip art using the computer, then you help them print out their design and iron it on a T-shirt!
5. Host a back-to-school photo booth.
Raid your kids' dress-ups and old Halloween costumes and have a back-to-school "photo booth." Add some funny hats, wild accessories, oversized sunglasses, and other easy-to-wear items. Or check out these ideas for do-it-yourself photo booth props on a stick. Hang colorful fabric or sheets as a backdrop, or use your homeschool classroom as the setting. Make some photo booth signs for kids to hold up: perhaps a "teacher's pet" label for your dog, or maybe your kids want to hold up a "Straight A Students" banner. Grade-level signs are also popular. Use a smartphone or digital camera to take the pictures, and you'll be ready to share them with grandparents or on Facebook.
Family back-to-school celebrations can help kids remember that school is important. Easing the transition from summer can help them adjust to school and make a strong start in learning. Give these fun ideas a try, or start your own family back-to-school tradition!
Interested in getting more involved in your children's education this school year? Visit the Connections Academy website to learn more about tuition-free online school, or the Pearson Online Academy website to discover the advantages of online private school.
Related Posts