Create Your Own Borax Crystal Snowflake
by Beth Werrell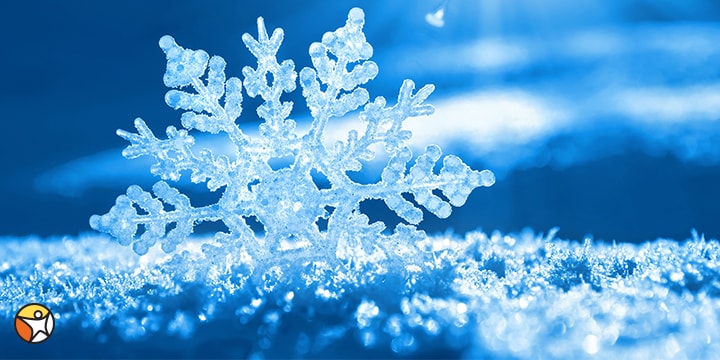 Just think of a beautiful crystal snowflake hanging in your home this winter? Now you can create one with your online school student while you explore some simple STEM concepts together and have fun along the way! 
These crystal snowflakes are made by dipping your snowflake-shaped pipe cleaners into borax that has been dissolved in boiling water. As the water cools, borax forms crystals that cling to the pipe cleaners—making a festive winter decoration. 
Materials needed 
Here are the materials you'll need: 
String 
Wide mouth jar (pint) 
Pipe cleaners 
Borax (available at grocery stores in the laundry detergent aisle) 
Pencil 
Hot water 
Scissors 
 Grow your snowflake overnight 
Step 1 
Cut a pipe cleaner into three equal sections to make a snowflake shape. Twist the sections together at their centers to form a six-sided snowflake shape. Don't worry if an end isn't even—just trim it to get the desired shape. And remember, no two snowflakes are alike! 
Step 2 
Make sure your snowflake fits inside the jar. Tie the string to one end of the snowflake and the other to the pencil. You want the length to long enough so that the pencil hangs the snowflake into the jar. Fill the wide mouth pint jar with boiling water. 
Step 3 
Add three tablespoons of borax to the boiling water, stirring to dissolve after each one. The amount used is three tablespoons borax per cup of water. It's okay if some undissolved borax settles to the bottom of the jar. 
Hang the pipe cleaner snowflake into the jar so that the pencil rests on top of the jar and the snowflake is completely covered with liquid and hangs freely (not touching the bottom of the jar). Feel free to add food coloring to your jar if you'd like to make different colored snowflakes. Allow the jar to sit overnight. 
After 24 hours, your crystals will be done! You can hang your snowflake as a decoration or in a window to catch the sunlight. 
Learn about the changing state of crystals 
Because Borax is a material that naturally grows into a crystals, your child can watch nature in action. 
Real snowflakes form into crystals when warmer water in the clouds cools down. Hot water, like hot air, absorbs more substance than cold. By stirring the borax into the hot water, the maximum amount of borax is absorbed. Once the water cools, it can no longer hold as much borax in each molecule, so it releases it into its natural mineral shape, a crystal. Sugar and salt crystals will do the same thing as borax when dissolved in hot water, however they usually take a lot longer to crystallize. 
Remember to take a photo or video of your snowflake! Share it on Facebook, Twitter, or Instagram and use the hashtag #BoraxCrystalSnowflake. 
Explore more learning resources or check out one of our online learning leaders recreating the experiment on Tik Tok. 
Related Posts