7 Steps to Prepare Your Homeschool Classroom for the First Day of Online School
byChristopher E. Nelson
6 min to read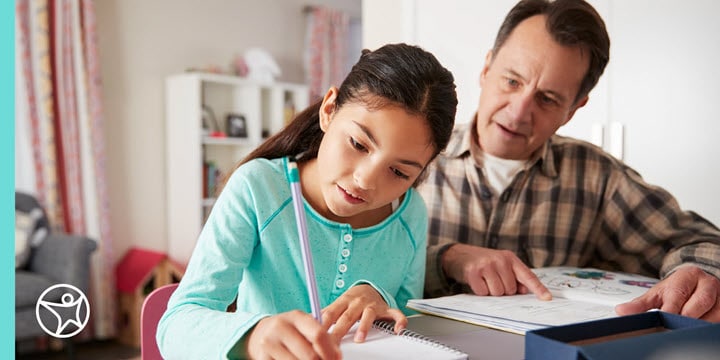 As you and Connections Academy® work together to help your student grow into a well-rounded, resourceful, and resilient individual, the physical foundation of your online school experience is your home classroom. 
With the first day of online school for your K–12 child(ren) just around the corner, it's a good time to take a look at what belongs in a homeschool classroom. Here is how to create a virtual classroom for your child in seven easy steps: 
7 Steps for Your Homeschool Setup
1. Create a Dedicated Learning Space
First, you'll need a dedicated, organized space to serve as your homeschool classroom. Not everyone can dedicate a whole room—such as a spare bedroom—to schoolwork. Even if you have limited space for your homeschool setup, you want your student to feel ownership and become comfortable with the routine of "going to school" in a specific place. 
2. Pick the Right Student Desk
When choosing a desk for your child, consider one with adjustable legs, so it will fit your child for several years. The typical classroom desk height for students in fourth grade and above is 30 inches (measured from ground to desktop). For smaller kids, the desk should adjust down to at least 22–24 inches. 
If your child will be working from a table that has other duties, consider a desk riser, which can be moved from the table when necessary. Desk risers are a lighter and less expensive type of standing desk, which can remain collapsed for seated use. Older students might appreciate (and be able to safely operate) a desk riser to stand as they work from time to time.  
3. Find a Comfy Desk Chair
Comfort is a big consideration, because your child will be spending a good amount of time in this chair. There are several features available with desk chairs for students:  
They can tilt and swivel, roll on casters, or sit stationary.  
They may provide adjustable lumbar support and built-in footrests.  
They may come in fun, kid-friendly designs and bright colors, or as office-style chairs that might appeal to older kids and teens.  
But as with a desk, proper chair size is paramount. The appropriate size for a kid's homeschool classroom desk chair will depend primarily on the child's height and weight. A child's desk chair should: 
Allow them to sit with their feet planted firmly on the ground—not dangling. 
Have their knees bent at a 90-degree angle. 
Allow them to maintain a straight posture while sitting back in the chair (Scroll down to Step #7 to learn more about ergonomic desk setup).
4. Ensure Good Task Lighting for Their Homeschool Setup
Make sure your child's homeschool setup is properly lighted. Good lighting requires good lightbulbs, and it can improve attention span, accuracy, and productivity.  
Halogen bulbs provide light closest to natural daylight. 
LED lights are longer-lasting and more energy-efficient.  
Avoid harsh fluorescent lighting, which can cause eye strain and make your student feel tired. 
Experts suggest a 40- to 60-watt light bulb (450–800 lumens) for reading and writing. 
Once you have chosen the lightbulb that works best for your family, let's look into lamps. A desk lamp, table lamp, or nearby floor lamp can all provide good task lighting for reading, writing, or viewing a computer screen. 
Whether desktop, laptop, or mobile, the computer screens that Connections Academy students and Learning Coaches choose to work from need to meet Connections Academy hardware, software, and connectivity requirements. Don't forget a power strip to keep everything running, and consider a universal charging station to recharge several mobile devices simultaneously.  
5. Homeschool Setups Need Chalkboards, White Boards, or Bulletin Boards
Not all home-schooling is on a computer screen. To sketch out ideas for your online student, you'll want the generous space that a traditional chalkboard or dry-erase white board can provide. A cork bulletin board can provide a place to pin up: 
Visual lessons  
Reminders 
Examples of your child's work. 
Decorations based on study topics or seasonal themes.  
A magnetic board with colorful letter- and number-shaped magnets is a great teaching aid for younger, virtual school students. 
These types of boards can be hung, mounted, or can be freestanding, and are found at any office supply store. Be sure you know the measurements of your wall or floor space you have available before buying. 
As you hang these boards up and design your homeschool classroom, check out these common learning environment set up mistakes to avoid. 
6. Storage Space
And because not everything in your homeschool classroom will always live on a screen, board, or desktop, you'll need storage space. You can obtain or adapt: 
Bookshelves 
Filing cabinets  
Lidded storage bins  
Baskets 
Wooden or plastic storage crates  
These, too, are readily available from office supply stores or retailers specializing in storage and organization supplies. 
As you add these pieces and others to your virtual classroom, keep the overall aesthetics of the space in mind. Let your child help decide how their school room will be decorated. Consider, too, that colors affect mood. Color psychology studies have concluded that certain classroom colors are more conducive to learning.  
7. Ensure the Learning Environment Has an Ergonomic Desk Setup
The standard advice is that proper ergonomics for sitting at a desk—including correct chair height, adequate equipment spacing, and good desk posture—can help keep your child pain-free and content (if not happy). But, as Meredith Chandler, an occupational therapist with the Ergonomics Health Association, writes, "Very few children will purposefully sit in a strict 90-90-90 position in school all day, because they are built for movement." 
There are proper ergonomic considerations for children when they sit and work, but Chandler says kids should also be allowed to move around during the day as long as it does not interrupt academic learning. Learning Coaches should design their student's online school schedules to include daily educational activities that get their students out of their chairs. 
Active Sitting with Ergonomic Desk Setup
Chandler says experts promote active sitting to combat the dangers of lengthy static sitting for children as well as adults. Active sitting, also known as "dynamic sitting," refers to actively engaging core muscle groups, even for micro-movements, while stationary. This can be done with: 
Bouncy ball chairs 
Desk chairs that rock and sway 
Standing desks 
Desk treadmills 
Develop Healthy Habits for Technology Use in Your Ergonomic Desk Setup
There are right and wrong ways of setting up technology. Here are some additional ergonomic desk setup tips on how to get ready for online school:  
Monitors should be close enough to the child's body, so the student doesn't have to squint or lean forward to see what's on the screen. 
Keyboards should have angular adjustments and padding, so wrists are neutrally positioned (straight) while typing. 
The keyboard and mouse should be at a desktop height, so the angle of the elbows is 90 degrees or slightly more. 
Sturdy footrests can promote changing foot positions, which will increase circulation in the legs and prevent dangling of the feet while working. 
Who's Ready for Back-to-School Time?
Once you've finished your child's homeschool setup, it's time to review what should be on your back-to-school shopping list in preparation for the first day of virtual school.  
Check out more ideas for helping kids start their online learning adventures successfully by visiting the Connections Academy's tips and resources page for families.   
Related Posts