3 Simple Tips for Choosing Age-Appropriate Children's Books
byTracy Ostwald Kowald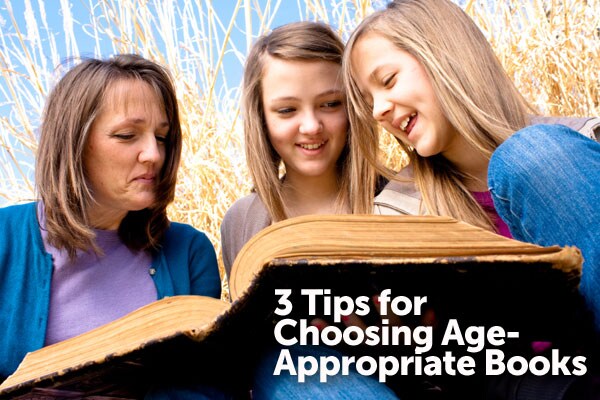 When you go to the library with your child, there are hundreds of books to choose from. How do you find books that are just right for your child's reading level and interests?
You can take a chance and pick a few, of course, or you can ask a teacher or librarian for a recommended reading list. But you can also find the right books for your child just by using a few simple techniques.
Determine your child's reading level.


Sometimes, finding an age-appropriate book is as easy as matching your child's age to the reading level printed on the back of a book. If your child is 10, for example, then you can look for books in the 9–12 age bracket.

Here is one tool that uses a measure called a Lexile to match readers of all ages with books and other reading resources.

But before you rely on this method, remember that every child is different. Struggling readers fall below the normal reading level for their age or grade, while advanced readers may be several levels ahead. Difficulty varies within reading levels and within Lexile ranges, as well. If a book uses a lot of figurative language, metaphors, idioms, or hyperbole, it will be more challenging to understand than other books in the same Lexile.

Do a background check.

If you want to know more about the content of a book before your child chooses it, do some research. Read reviews online and ask for advice from teachers, librarians, or other parents and Learning Coaches.

You can also check a resource such as Common Sense Media, which rates books, movies, apps, and games by age and learning value. The site allows you to search for specific works or browse by age, entertainment type, genre, and more. It also offers different lists of "Top Picks," or recommendations.

Teach your child this reliable trick.

Help your child become an independent reader by teaching him or her the acronym "PICK," which stands for the following:

Purpose: Why do I want to read this book? Is it for school or just for fun?

Interest: Does it interest me? Will I enjoy reading it?

Comprehend: Do I understand what I'm reading? Can I summarize what I just read?

Know: I know most of the words. There may be one or two I don't know, but no more than five.

Use the three-word trick to answer the K in the PICK mnemonic. The easiest way for you or your child to decide if a book is at an appropriate reading level is to use the three-word or five-word trick.
Have you child randomly open a book he or she is interested in to any page, and then have him or her read that page.
While reading, keep track of unfamiliar words. Proper nouns (names, places, etc.) do not count as unfamiliar because the reader doesn't have to know how to say the word, just that it's a person or a place.
How many words were new or unfamiliar? If the page has three or more unfamiliar words, then the book is likely to be too difficult for your child to understand.
Books that fit all of the PICK principles are more likely to engage and educate a child.
How do you and your family find books that are just right for your child's age and abilities? What are some of the best children's books you've read lately?
Related Posts