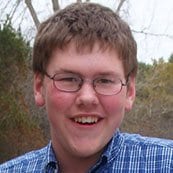 "I was a student at Wisconsin Connections Academy since Kindergarten until I graduated high school. I took normal classes, but I also had the opportunity to take unique ones such as Spanish class with Ms. Plantiko. I attended a technical college while in high school so that I could learn to weld and do mechanics. My brothers, dad, and mom even took some of the classes with me. I plan to become the fourth generation in my family to work on our organic farm.

I enjoy hobbies such as playing games, working outside, and melting metals. In my spare time, I built a home foundry and smelted pop cans and brass—it melted because it was too small, so now I am building a larger one. My uncle has also taught me to use his wood lathe. I like playing Skylanders, board games, and video games with my brothers and sisters as well. My next endeavor will be Hunter Education and Driver Education."

"Wisconsin Connections Academy was a great fit for me and my family."
— Wyatt