Why Student Athletes Choose the Virtual School Advantage
by Dan Reiner
3 min to read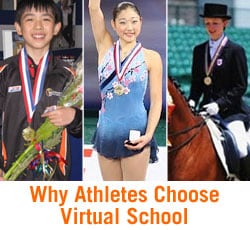 If you've watched any television coverage of the 2012 Olympic Games, you've probably noticed that some of the aspiring medalists are school-aged kids. Did you ever wonder how these youthful world-class competitors manage the demands of school, training, and international competition? In increasing numbers, student athletes like Jordan Windle, a 13-year-old student at our online school in Indiana and the youngest diver to qualify for the Olympic trials, are turning to virtual schools to meet their educational needs. Here are just a few of the many reasons why athletes and their parents are opting for this innovative learning environment.
Virtual school accommodates a rigorous training schedule. Often, elite athletes must be ready to train when the coach, pool, rink, playing field, or gymnasium is available—which may conflict with a traditional school schedule. Virtual school students can adapt their learning schedules around their sports and other obligations, doing schoolwork when it works best for them.
Students can pursue a quality education—and their dreams! Attending virtual school makes it possible for ambitious athletes to have it all. With the right online school, they can keep up with academics and work toward acceptance to an excellent college, without sacrificing their goals of trophies, gold medals, and championship victories.
Athletes can attend school from any location. With a laptop and an Internet signal, online students can study anywhere! Athletes have been known to complete lessons at home, on a plane or bus, in a hotel, or in a gym or locker room. Some virtual schools provide real-time instruction, enabling students to interact with teachers and other students from any location, as they continue their travel and training.
The learning schedule can be adjusted for travel. Elite student athletes may need to travel regionally, nationally, or internationally to attend special training, trials, and competitions, as well as make public appearances and take advantage of media or sponsorship opportunities. As online students, young athletes (and their parents) can work with their teachers to set schedules that enable them to travel without falling behind in their schoolwork.
Competitors can arrange time to reenergize. Training, conditioning, and competing take a lot out of an athlete—particularly one who is still growing! With the flexibility of virtual school, students can plan ahead to allow adequate time for sleep, relaxation, family, and just being a kid.
Athletes can enroll in advanced coursework. Virtual schools may offer Gifted and Talented, Honors, and AP classes, making it possible for student athletes with greater abilities to receive the academic challenge and stimulation they require. Taking advanced courses can help enhance students' transcripts, making them more appealing to college admissions boards.
These advantages all add up to having the flexibility and the options to do what works best for the student's academic, athletic, and emotional well-being. If you are the parent of a competitive student athlete who is finding it challenging to juggle the often conflicting demands of school and sports, consider making the switch to a high-quality virtual school. You may find that it's just what your child needs.
Related Posts