California Connections Academy Parent Bionca Smith Takes Her Son's Education on the Road
by Beth Werrell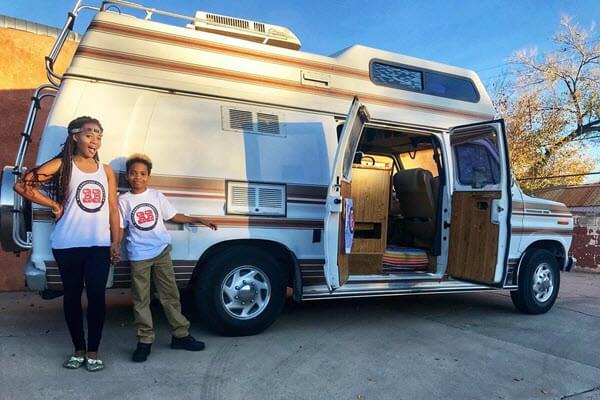 A traditional public school was not working for California Connections Academy elementary school student Carter and his mom, Bionca Smith, an entrepreneur and blogger who wanted to be more involved in her child's education. She felt disconnected from what Carter was learning, similar to how her child felt attending classes in a traditional school setting. Carter struggled to relate to the curriculum and make progress.
Similarly, Bionca felt boxed in by traditional obligations and fears and wanted to live her dream of seeing the world with her son. She especially felt worn down by the grinding routine that had her and Carter rising, working, and going to school, then coming home and rushing to do the same thing all over again the next day.
Bionca decided to reimagine what her life could be if she were to sell all her possessions, give thirty days; notice on her apartment, and start over. One of the challenges Bionca had to overcome was finding a way to meet her son's educational needs.
After doing some research, Bionca decided that her son could go to school online, freeing them both to live the life they dreamed of.
So, Bionca and Carter set off on a life-changing journey that gave them open roads, far-flung destinations like Thailand, France, and parts of Africa, and a newfound sense of satisfaction with their lives. Much of their time is now spent in a 1989 Ford Econoline van, traveling, working, and studying. At first, Bionca was worried about giving Carter a fulfilling social life, but she soon realized that they could stay connected through FaceTime, XBox Live, and other technologies. They would also be making friends along the way as they visited new places and met new people.
Online school through Connections Academy gave Bionca and Carter the solution they both needed. Here is how Bionca views Connections Academy's impact on her family:
"The flexibility that we get from Connections Academy has been a lifesaver for me as a single mom and entrepreneur. Now, my son and I work side by side, and I don't have to worry about not being able to spend enough quality time with my child. With Connections Academy, kids are better able to explore passions that they may not have discovered until later in life.
I'd recommend every family seek alternative forms of education and find the one that matches the needs and interests of their children and their family lifestyle. We don't all live and learn the same way, and parents may be surprised to find that alternatives can work better and help their family meet their goals.
Connections Academy almost seems too good to be true because of the abundance of support and learning tools that they provide. Their program and structure enable a child to gain skills that aren't taught in traditional schools, which is priceless and transferable to all areas of life now and in the future."
You can listen to Bionca talk further about what motivated her to make these changes in her life in this podcast.
To read more about Bionca Smith and her journey, check out the March 2019 issue of Good Housekeeping.
"We don't all live and learn the same way, and parents may be surprised to find that alternatives can work better and help their family meet their goals."

—Bionca Smith
To learn how you can be more involved in your children's education with more opportunities to provide meaningful input, visit the website for Connections Academy online public school. Or to learn about online private school, visit Pearson Online Academy 's website.
Related Posts