Virtual School Seniors Attend Real Graduation Ceremonies
by Beth Werrell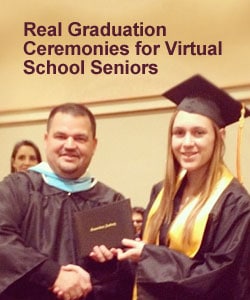 While virtual school students may learn from home, their graduation from online high school is a rite of passage they enjoy up close and personally!
At Connections Academy schools across the country, high school seniors don caps and gowns just like their traditional-school peers. Parents, grandparents, siblings, and other loved ones gather in auditoriums to watch them receive their high school diplomas. Watch the video below to see how online students celebrate high school graduation together.
Of course, the graduation ceremony only shows what happens on the outside. What you can't see is that virtual school graduates have enjoyed the advantages of an education customized to their interests and needs.
As they learned, these virtual school students chose from a personalized curriculum with a wide range of courses. They developed close relationships with their teachers and received college and career guidance from school counselors. Additionally, online school graduates gained time-management and independent learning skills that will be valuable in the future for higher education and in the workplace.
Related Posts