Virtual School DREAM: Dedication, Responsibility, Education, and Motivation
by Beth Werrell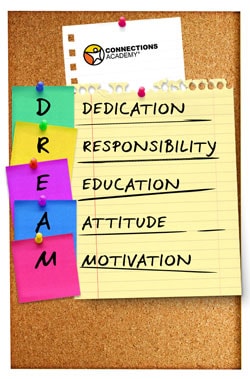 "I have a dream," said Martin Luther King, Jr., in his most famous speech, "that my four little children will one day live in a nation where they will not be judged by the color of their skin but by the content of their character." Wanting children to have a brighter future was just one of Dr. King's dreams, but it's a dream that parents and teachers continue to have for their students.
Virtual schools have their own "D.R.E.A.M." to promote students' well-being and success. "D.R.E.A.M." stands for: Dedication, Responsibility, Education, Attitude, Motivation.
If you're new to virtual learning, D.R.E.A.M. exposes some common misconceptions and shows you what online learning is really about, helping you determine if the virtual school D.R.E.A.M. is right for your child. If you are an experienced member of the virtual education community, D.R.E.A.M. is a great reminder to keep you and your students inspired every day.
Dedication
Because virtual school requires students to be more self-motivated and independent, one of the most important traits that virtual students need to have is dedication. Although virtual school gives students the flexibility and freedom to dedicate themselves to learning, no student can feel dedicated 100% of the time. That's why Learning Coaches, parents or guardians who assist with school, are there to keep students on track.
However, when a student gets frustrated, disorganized, or faces other common problems, even his or her Learning Coach can get discouraged. Like their students, Learning Coaches have to resist the temptation to give up. The solution is to remember you are part of a great a team—reach out to teachers for support, contact other parents for their ideas and tips, and look to our blog for inspiring posts like "Four Keys to Being a Great Learning Coach."
Responsibility
Students, Learning Coaches, and online teachers all need dedication to handle their responsibilities. Although a student is ultimately responsible for his or her academic performance, the Learning Coach and teacher are responsible for guiding and supporting the student throughout the school year.
From virtual elementary school to high school, the student's sense of responsibility grows while the Learning Coach's responsibilities shift from a more active role to a more supportive role. Younger students need more hands-on help as they gradually learn life skills, such as time management and working independently. On the other hand, middle and high school students often take charge of their school day and assume more and more personal responsibility for their education.
Students, teachers, and Learning Coaches must all work together to balance academic responsibilities. Great communication within this team is essential to establishing and following a personalized learning plan. As responsibilities shift, everyone needs to be adaptable to accommodate changes.
Education
When you want to choose the right school for your child, try to identify your educational philosophy. What do you feel is the value and purpose of education? What do you expect your child to achieve?
School is crucial in developing a child's character as well as his or her mind, so think about your child's unique needs and goals. If you're considering virtual school, remember that online learning is individualized. Each student follows a personalized plan, allowing him or her to learn at exactly the right pace. That means that struggling students never fall behind, while gifted students don't get bored doing busywork. No matter what type of education your child needs, make sure you chose a school that helps your child grow as an individual.
Attitude
Offering encouragement within a structured routine can help your student maintain a positive attitude. By recognizing success daily, establishing and following goals, and avoiding "don'ts" and complaints, you can create a positive learning environment for your student.
Remember to keep your own attitude positive. Your actions and emotions have a huge impact on your child, and when your behavior is positive, he or she will mirror it. As a positive adult role model, just remember that you can be a good influence every day.
Motivation
If your child loses motivation, seek to find a motivation solution. Is your student hungry or anxious? Tired or bored? Help your child by removing distractions and tackling any underlying causes.
To keep your student motivated on a daily basis, make sure you're aware of the 5 elements of student motivation, which are autonomy, collaborative learning, organization and structure, clear expectations, and an engaging virtual classroom. If you can strive to incorporate all of these elements into daily lessons, you'll be well on your way to motivating your virtual student to learn.
We encourage you to print this D.R.E.A.M. sign(opens in a new tab) and hang it in your learning area for daily inspiration.
Related Posts