The Student's Computer Maintenance Checklist
byConnections Academy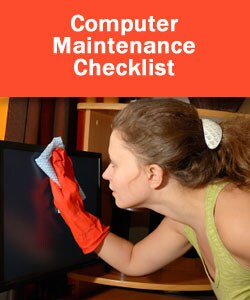 Technology puts the "virtual" in "virtual school," making the computer your student's most important learning tool. In fact, a computer can be considered a learning space, just like the virtual classroom. So the next time you have to organize the classroom, ask your student to take fifteen minutes to tidy his or her computer.
Parents, Learning Coaches, and students should all know how a computer can be organized and maintained to boost the computer's—and thereby the student's—long-term performance. Use the checklist below to make sure you cover everything.
Organize your school files.
Proper organization helps the computer run more efficiently and makes it easier for you to find things.
Your "My Documents" folder is organized using a simple hierarchy of sub-folders for each subject.
All files follow a consistent naming structure, including important information such as the subject, date, and name of the assignment. For example, "9-25-13_Math_Fractions Homework."
All files are in the correct place.
Clean your desktop.
Removing clutter from your desktop can make you feel better and also make important shortcuts and documents stand out.
There are no unused or unnecessary shortcuts.
There are shortcuts for frequently accessed folders.
There are no files on your desktop.
Change your passwords to enhance your security.
This is especially important for your major online accounts.
Free up space.
This can make your computer faster and more efficient.
You checked for and uninstalled unneeded programs within the Control Panel.
You took a look in "My Computer" to make sure at least 15% of your hard drive space is free, which helps your computer run more smoothly.
You checked to see whether any unimportant programs start automatically when your computer turns on. You can do this by typing "msconfig" (without the quotation marks) into search box of the Start menu and hitting Enter, then clicking the Startup tab in the System Configuration box that appears.
You ran a disk defragment, allowing your hard drive to place all saved data together to make it easier to access.
Check your computer security.
You should have a free antivirus program such as Avast(opens in a new tab), AVG Free(opens in a new tab), or Microsoft Security Essentials(opens in a new tab) downloaded on your computer.
Back up your data.
Prevent yourself from losing important documents.
You saved copies of your files to a flash drive, to an external hard drive, or in a form of cloud storage.
Clean your computer.
Technology accumulates dust, grime, fingerprints, and more, so don't forget to clean it often.
You used a mild disinfectant on the keyboard and mouse without getting either wet.
You used a can of compressed air to blow the dust out of your keyboard.
You gently wiped the dust off of the monitor with a dry cloth or a cloth with screen cleaner.
Consider doing a computer maintenance check every month, which you can schedule on your calendar. Although this can be very helpful, keep in mind that your student should try to form positive everyday habits, organizing as he or she goes to eliminate having to do these tasks later on.
Related Posts