Thankful For Turkey Craft Activity for Kids
by Beth Werrell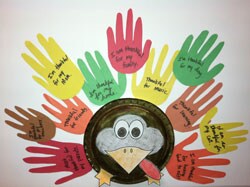 Besides learning about the Pilgrims and the tradition of a turkey dinner, young children discover what it means to "give thanks" on Thanksgiving. If you're looking for a fun hands-on activity that encourages your child to consider what he or she is thankful for, try the "Thankful For" Turkey. This craft takes the traditional handprint turkey a creative step further and allows the whole family to get involved in sharing thanks.

Materials:
1 paper plate
Crayons, markers, or colored pencils
Brown paint and paintbrush (optional)
1 piece of poster board
Pieces of brown, red, orange, yellow, and green construction paper
Scissors
Glue
Marker or other writing instrument
Instructions:
Flip the paper plate upside down and paint it brown (optional). Let the plate dry.
Color in the parts of the turkey provided in the template (head, eyes, beak, wattle, and feet).
Cut out the template shapes. Arrange your turkey's face on the middle of the plate, and place the feet on the bottom edge of the plate. Glue the parts into place.
Glue your turkey onto the piece of poster board, making sure it is centered and near the bottom of the board.
Have each member of the family choose a piece of colored construction paper. Ask them to trace their hand onto the paper and cut it out.
Ask each family member to write what they are most thankful for in the middle of their paper hand using the marker.
Glue the hands around the outside edge of the paper plate to form the turkey's feathers.
Display your turkey where everyone can see it, and when visitors stop by, encourage them to participate in the craft by adding their own handprint to it (and what they are most thankful for). The poster board should provide plenty of space for extra "feathers" to be added. See how many "feathers" you can add before Thanksgiving!
On Thanksgiving Day, take a look at your turkey and read all of the things your family and friends are most thankful for! What are you grateful for this Thanksgiving? Share your thoughts in the comments below.
Related Posts