Student Reflection: Switching from Traditional to Online High School
byJessica Langevin
5 min to read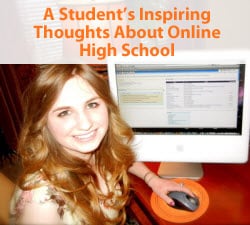 Sometimes, what is needed to solve a problem is the ability to take yourself out of it. Minnesota Connections Academy removed the distractions and white noise from my education, allowing me to experience "school" from a different perspective. Once that happened, my whole life changed.
Even after years of feeling frustrated with grades that didn't reflect my efforts, I was hesitant to leave my comfort zone or network of friends and teachers. But when I learned more about online high school programs, I was immediately drawn to this alternative form of public schooling that almost seemed too good to be true.
Of course, my parents were initially concerned about trying something they weren't familiar with, and they wondered how much it would cost. We discovered that the online high school we were considering was accredited by the Minnesota Department of Education, and the school's transcripts are accepted at public and private colleges across the country. Knowing this minimized the academic risk of switching, and since the school operates as a public charter school, it is tuition-free. So, I began the simple enrollment process to begin my freshman year the next fall.
The transition was a bit rocky at first since I needed to learn how to use the new technology—and I discovered the curriculum was even more challenging than I had expected or ever experienced before. But with support and unlimited access to my caring teachers, guidance counselor, and Learning Coach (my mom), who were all committed to helping me adjust, I was soon able to earn straight A's and take advanced classes.
For the first time in my life I could see the big picture. I was able to view all my assignments for the entire semester for each class, and control the flow of my days, months, and life! I found that working within a structured environment allowed me the freedom to learn at my own pace, as well as the flexibility to apply my style of learning and more efficiently manage my time.
As I watched my grades improve, so did how I viewed myself. I began to expect more from myself. Every day, I experienced the thrill of accomplishment as I completed my lessons. The efficient feedback from those assessments that were graded automatically online helped me effectively process any errors I made while I was still focused on the information. I found this simple change greatly enhanced my ability to retain what I had learned.
Believe it or not, going to an online school actually improved my social life. I was able to enjoy as many social interactions as I wanted and learned how to choose those that are best for me. I am fortunate to have sidestepped much of the adolescent drama that can be so damaging to one's confidence and self-esteem. The freedom and flexibility in my schedule allowed me to attend field trips, during which I made lasting friendships. I was also able to be a part of the University of St. Thomas' ThreeSixty Journalism program, volunteer in my community, create my own learning adventures, and travel during the school year. I had time alone, which I feel is required to really know who you are; therefore, I can truly be myself when I'm with people my own age and not be so influenced by what everyone else is doing or thinking.
Going to a virtual school has also improved my relationships and comfort with people of all ages. I loved being able to call or visit Baba (my grandmother) in the middle of the day, and I valued the wisdom and guidance she shared. I was lucky to have a Learning Coach (my mom) who had an open mind and such a thirst for learning. I sometimes had to take my books away to get back to the lessons for the day. I've experienced so many incredible conversations learning at home that never would have happened in my prior, "How was your day?" routine. I've been able to ask those questions I never would have felt comfortable asking at school and have therefore gained insights and been given the benefit of the thought processes and life experience of all the adults committed to mentoring me.
Attending online high school has helped me grow into the person I always wanted to be. Before switching from a traditional school, I passively accepted things how they were. Now, I realize that when I'm having trouble with something, I can search for other solutions that would work better. I have discovered that seeing what I am capable of is enlightening. I want to push myself, compete with myself to set and then reach for higher goals.
The most unexpected part is that so many things I thought would remain simply childhood dreams have turned into reality because of the influence and extraordinary efforts of my teachers and counselors. I never would have believed I could be in the National Honors Society, an Academic All-Star who was interviewed by KARE 11 TV, or the valedictorian at my graduation. If this was a Cinderella fairytale, Connections Academy would be the magical godmother who makes it all possible.
Switching to a reputable online school isn't just a change of school, but a change of mind. Here, I have learned the value of being proactive, taking responsibility for my life, managing my time, setting priorities, and taking action toward my goals. The fresh perspective that the school provides, along with the extra individual attention, deep mentoring relationships with teachers, and increased freedom and flexibility, combine to create an empowering environment, making it possible to become the person you've always had the potential of being. Looking back, my only regret is not having switched to MNCA sooner.
If you continue to struggle, thinking this year will go better, maybe it's time to give something else a chance. Connections Academy may be just the change you need to become the person you always knew you could be.
Related Posts