Plan a Fun Break with Our Winter Activity Calendar
by Beth Werrell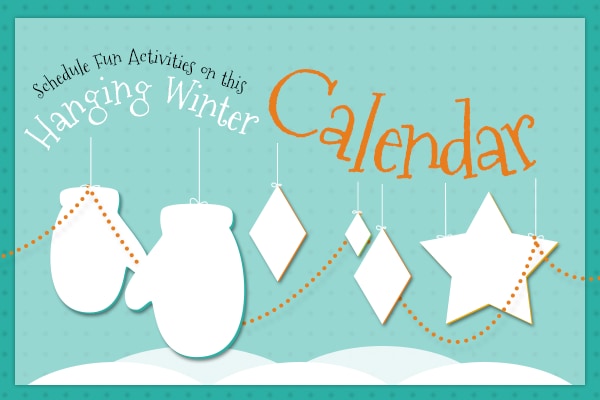 Calendars are useful tools in virtual school for many reasons. A typical calendar helps by keeping track of appointments, test dates, special occasions, and more. Learning calendars can help you understand the learning process by recording what goes well and what can be improved. There are also family calendar apps that help families manage daily priorities.
Calendars also make fun crafts, especially if they take on a creative form. For example, the dates on our Winter Activity Calendar are represented by paper cutouts, which dangle from a clothes hanger on a piece of string.
The Winter Activity Calendar also has a special purpose: to help students schedule activities over winter break. To try this calendar craft, download the Winter Shapes Templates and click on the graphic below to see the activity instructions.
Winter Activity Ideas
When you're choosing activities for your winter calendar, take a look at the following list for inspiration.
Write a poem about winter.
Find coding tutorials to try.
Make paper snowflakes to study symmetry.
Build nature smarts by finding and counting evergreen plants in the backyard.
Do our holiday marbled paper craft.
Find the most effective feeder for your backyard birds on January 5th, which is National Bird Day.
Learn how to dust for fingerprints.
Test out new indoor physical education activities for K–5 students or exercises for students in grades 6–12.
Bake cookies to practice cooking basics.
Use online creativity tools for kids to exercise the imagination.
Invent a snowman craft using household items.
Introduce your child to safe social networks and discuss good social media manners.
Do rainy-day crafts, such as making a habitat diorama.
Learn about arctic animals with this blubber glove activity.
Choose a fairy tale to use for this story retelling activity.
Sleep in and go to bed early in celebration of Festival of Sleep Day, which is January 3rd.
A great way to find ideas and share your own is to use Pinterest. There are countless winter activities on Pinterest to try and other great resources shared by parents, teachers, and students. Let us know which activities you find—and try—in the comments below.
Related Posts