Not Your Usual High School Experience
by Beth Werrell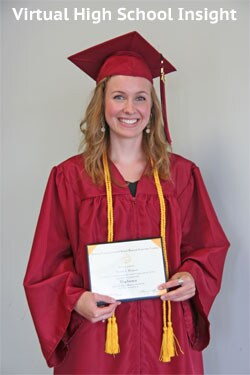 Have you ever wondered what it's like to be a high school student in an online school?  The best way to find an answer is to go to the source.  Hannah Berquist has been kind enough to share her thoughts on the experience and a few of the surprises she had along the way!
Hannah Bergquist, MTS Minnesota Connections Academy High School Graduate 2010
Like many seniors across the state, I am celebrating the completion of high school and looking forward to beginning college next fall. However, my route to graduation was somewhat nonstandard. I completed my freshman year as a traditional high school student and to all outward appearances was very successful. I was involved in choir, made the junior varsity tennis team and doing well academically. Yet, over the course of the school year I had become increasingly frustrated with several things. First, despite having good grades, I all too often left my classes feeling confused about the homework making it difficult to complete. I often felt as if I was teaching the material to myself or relying on help from my parents. Second, the lack of discipline in all too many of my classrooms made it difficult to learn or enjoy the class time. Third, I was frustrated by not having as much free time as I would have liked in order to pursue other interests. This led to my decision to pursue other alternatives for completing my high school education
With help from my parents, I settled in on Minnesota Connections Academy, a virtual public school available to students K-12 My parents liked the fact that I would have certified teachers for each subject and would still be able to have access to all state testing and record keeping. I was impressed with their online class modules, LiveLesson® sessions with teachers, many field trip opportunities, and the chance to work at my own pace. All textbooks were provided and included online versions as well. My teachers were just a WebMail or phone call away and I had access to a number of online learning resources. An added bonus was the additional free time. I no longer had to spend time getting to and from school, wait for attendance to be taken or class to quiet down. I just turned on my computer and got to work. This additional time allowed me to add piano, voice lessons, and musical theater to my schedule. In my junior year, MNCA asked me to become an online math tutor several evenings a week. While I found this experience challenging because I didn't know what questions might be asked ahead of time, it was also quite rewarding.
Connections Academy also helped me to prepare for college. In my junior year, MNCA offered an ACT prep course, many onsite campus visits around the state, and a class that helped students set up the files and records necessary to apply to various colleges. The prompt, personal attention I always received from the teachers and staff was impressive. By my senior year, my confidence and skills at working independently made me a good candidate for Minnesota's Post Secondary Education Option (PSEO). Without the support of guidance counselors at MNCA, I would have overlooked this incredible opportunity to earn both high school and college credit at the same time. As it is, I just completed a full year of college credit at North Hennepin Community College.
Something I did not expect to gain from the online classroom environment was to meet many friends. I had assumed my social life would be nearly nonexistent. However, by taking advantage of the school's WebMail service, attending LiveLesson sessions, field trips, and the school's basketball games (Minnesota Transitions School went to state the past two years) I have made a number of enduring friendships. I feel like I have had the best of both worlds.
One thing I will always take with me is the feeling of confidence in my ability to succeed that this online experience through Connections Academy instilled in me. Thanks to the guidance of its teachers, counselors, and alternative approach to learning, MNCA has helped to provide me with the skills and independence necessary to excel in college and beyond.
Related Posts