No More Bullying: Thriving in a Safe Learning Environment
by Beth Werrell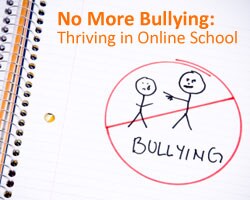 When the Patterson family relocated to a rural Arizona town, they never imagined that the change would have a negative effect on their son's social and academic development. As the new kid in town—and one of the smallest children in his new bricks-and-mortar school—their son Beau became a victim of bullying, and soon his grades and his self-confidence began to suffer.
More than 13 million kids will be bullied this year, according to thebullyproject.com(opens in a new tab). As shown in the controversial and thought-provoking new documentary Bully(opens in a new tab), recently released in theaters nationwide, the consequences of bullying can be devastating. The U.S. Department of Health and Human Services concurs; its research proves that young people who are bullied are at a higher risk for depression, anxiety, low self-esteem, physical ailments, truancy, and even suicide.
Now a 14-year-old online high school freshman(opens in a new tab) at Arizona Connections Academy(opens in a new tab), Beau says he's glad that his mom found out about virtual schooling. Working in a safe environment at home, he's improved his grades and feels good about himself again. He's had the opportunity to meet classmates and make friends through online activities(opens in a new tab) and in-person field trips(opens in a new tab). Beau also appreciates having a flexible schedule that allows him to play baseball, ride horses, and compete in rodeos. Watch his uplifting story now:
https://www.youtube.com/watch?v=gX2wnUcnS1I
Having trouble seeing? Try going directly to YouTube(opens in a new tab).
If your child is experiencing school bullying, you should know that bullying prevention resources are available to help you talk with your school administration and deal effectively with the problem. And, as Beau was quick to point out, there are other educational options available for helping students succeed.
Help inform parents and students everywhere by sharing this blog post and Beau's positive message on Facebook, Twitter, Pinterest, and anywhere else you can! And please leave a comment below to tell us how bullying has affected your life and what positive solutions you have discovered to overcome it. Let's work together to take a stand against bullying!
Related Posts