How to Make Panpipes: A Craft for Hispanic Heritage Month
by Beth Werrell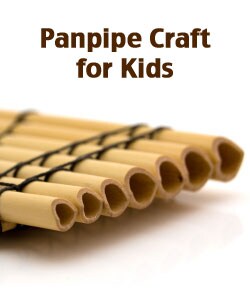 October 15 marks the last day of Hispanic Heritage Month, a celebration that began in Latin America and that is observed in the United States. It begins on September 15, the day when Honduras, Guatemala, El Salvador, Nicaragua, and Costa Rica declared their independence from Spain in 1821. Mexico, Belize, and Chile also became independent within the next few days. By extending to mid-October, the month also covers October 12, which is Columbus Day—or Día de la Raza, "The Day of the Race," in Latin America—observed in the United States in commemoration of Christopher Columbus' landing in 1492 on the North American continent.
This is a time for us to celebrate Hispanic culture and its influence on history. If you want to teach your student about Hispanic heritage through a hands-on activity, we have a panpipe craft you can try!
Panpipes are traditional instruments in Central and South America, dating back thousands of years. They were made from ceramic, bone, reeds, cane, and more, but you and your student can make a basic panpipe out of straws.
Below are the materials and instructions for making our Panpipe Craft.
Materials
A ruler
A pair of scissors
About 10 straws
A pen or marker (optional)
A roll of masking tape
Instructions
Take eight straws and cut them into the following lengths:
Leave the first straw at one end at its original length.
Cut each consecutive straw shorter by about one-third to one-half an inch.
These lengths will make each straw play a different note in the octave. You can use a pen or marker to indicate where each straw should be cut, or you can simply bend the straw at the correct length and cut it at the fold.
Lay the cut straws side-by-side on the table, from longest to shortest. The straws should line up evenly across the top.
Cut one or two additional straws into small pieces, all about two inches long. Place one between each of the eight straws on the table and line them up near the middle to space the main straws apart. These straws should be placed in the same orientation as the larger straws.
Tear off a piece of tape and carefully wrap it around the straws where you just placed the smaller straw pieces for support. After the tape is wrapped around both sides, you're ready to play your straw panpipe!Remember to blow across the tops of the straws, not into them.
After playing some tunes with the panpipe, do some research to learn more about ancient American panpipes and to discover how panpipes are played today.
Have fun playing your self-made panpipes!
Related Posts