How to Keep Learning Alive in December
by Beth Werrell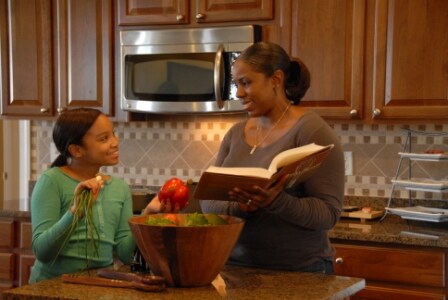 This is the time of year for family fun and togetherness, for gathering to celebrate annual family traditions and seasonal activities. It can also be a great time for parents to keep learning alive at home, whether on the weekend, or during kids' winter break from school.  The key is to make it fun, so kids will be learning even when school's out! Each day this week I will list some "teachable moments" for families to enjoy!
Baking Cookies:  When cooking or baking, read an age-appropriate recipe together and write an ingredient shopping list. You can look up culinary words in the dictionary (reading, writing, vocabulary). Visit the supermarket and figure out how much the recipe will cost to make (math skill). Prepare the recipe—measuring, counting, pouring, sifting, and sorting target math and fine motor skills. Various cooking techniques, like boiling, even offer an opportunity for a science lesson.
Shopping:  Ask your children to help you count the number of recipients on your family's gift list. Brainstorm creative gift ideas, especially for your children's teachers. While at the store, ask your child to count the number of items in your basket, or other details like, what color is this? Which is the biggest item? Which looks the heaviest? How many people are left on our shopping list? If you are comfortable discussing prices or budgets with your child, you can also encourage your child to keep running tallies of spending and budget remaining.
Related Posts