How Summer Schedules for Kids Add Structure to Your Summer Break
by Beth Werrell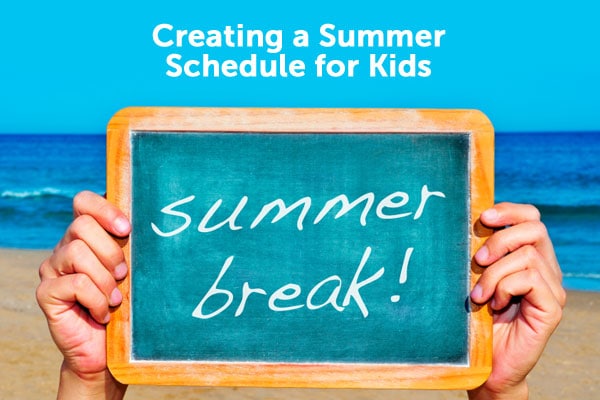 When summer break arrived each year, my family was relieved to be finished with school. But over the years, I've realized that it's important not to let our freedom turn into aimlessness. Just like during the virtual school year, my children made better use of their time when they had a schedule.
Creating a summer schedule might sound like extra work, but it's actually a simple way to pack more fun into each day! To get started, make a list of your summer activities. These can include:
Exercise
Chores
Outdoor play
Relaxation
Hobbies
Pool time
Picnic at the park
Sporting event
Board game night
Free time
If you're looking for some new activities to try, take a look at these summer learning resources:
Sample Daily Schedules for Summer Break
After you make your list of summer activities, draft some schedules until you find a few that work. Below are some of my options for a fun, productive day at home.
Schedule A
9:30 a.m.
Breakfast
10:00 a.m.
Chores
10:30 a.m.
Reading and summer assignments
12:00 noon
Lunch
1:00 p.m.
Educational crafts and activities
2:00 p.m.
Hobbies
12:00 p.m.
Lunch
3:00 p.m.
Exercise, outdoor play
5:00 p.m.
Free time
6:00 p.m.
Dinner
7:00 p.m.
Family time
Schedule B
9:30 a.m.
Breakfast
10:00 a.m.
Chores
11:00 a.m.
Crafts, activities, and hobbies
1:00 p.m.
Lunch
2:00 p.m.
Exercise, outdoor play
5:00 p.m.
Computer time
6:00 p.m.
Dinner
7:00 p.m.
Family movie
9:00 p.m.
Reading
Here is a sample schedule for doing special activities out of the house.
Schedule C
9:30 a.m.
Breakfast
10:00 a.m.
Chores
10:30 a.m.
Visit the library
12:30 p.m.
Lunch in town
1:30 p.m.
Trip to the park
4:00 p.m.
Shopping with Mom
6:00 p.m.
Dinner at home
7:00 p.m.
Free time
Remember, you can customize your schedule any way you want. You might choose to schedule only three activities each day or create a daily to-do list instead of a schedule. Just do whatever works best for you!
My only recommendation is to follow a specific schedule more than one day each week. Coordinating scheduled days with music lessons, when library books are due, or for planned visits with playdates or relatives can be helpful to balance your summer weekly agendas. Getting used to a weekly routine is important to adopting a schedule successfully.
Once you get a sense of your schedule for each day, stay organized using a family planner. You can also check out these scheduling apps to access your weekly agenda on the go.
Don't Forget to Schedule Free Time!
Creating a summer schedule should help you and your kids do all the fun things you're looking forward to. It shouldn't make you feel overwhelmed and overscheduled. If your week feels too busy, replace some activities with unstructured time so you have plenty of time to relax. Research shows that people who have more free playtime during childhood are better at adapting to changing circumstances and environments.
Related Posts