How Alice in Wonderland Changed Children's Literature
by Beth Werrell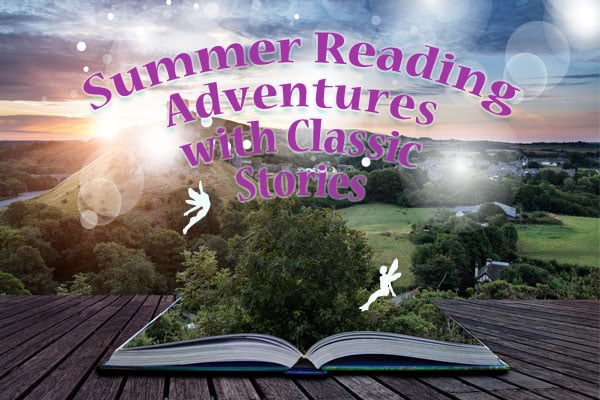 One summer day long ago, an English mathematician went on a quiet river outing with an Oxford dean and his three young daughters. To entertain the girls, the mathematician spun a fantastical tale of another little girl who dreamt that she'd fallen down a rabbit hole, entering a topsy-turvy world inhabited by an execution-happy queen, a mad hatter, a tardy rabbit, a vanishing cat, and a host of improbable but unforgettable characters(opens in a new tab).
That tale was Lewis Carroll's Alice's Adventures in Wonderland—and 2015 marks the 150th anniversary of its publication. In honor of Alice's "birthday," we thought our own summer readers would want to know how Alice is still shaping what and how we read today.
Reading for Enjoyment
Before the publication of Alice's Adventures in Wonderland in 1865, children's books (such as they were) focused on moral instruction and academic basics. The language could be dull and moralistic, with children's characters resembling miniature adults more than real-life kids like the inquisitive and oft-annoyed Alice.
"'Tut, tut, child!' said the Duchess. 'Everything's got a moral, if only you can find it.'"
But Lewis Carroll and Alice changed all that, moving entertainment to the forefront and moralizing to the background. (As Carroll and his duchess character suggest, the moral is still there, but you may have to search to find it.) Placing the child at the center of the story's action, Carroll launched a golden age of children's literature and even helped change how society viewed childhood.
Thanks in part to that child-centric literary legacy, we now know that appealing to students' interests is key to fostering a love of reading and reading proficiency.
Illustrating the Imagination, Connecting the Text
"What is the use of a book,' thought Alice, 'without pictures or conversation?'"
Before the printing advances of the mid-18th century, books were simply too expensive to illustrate and make widely available to children. But by the time Alice's Adventures in Wonderland emerged, technology had changed. Recruiting the famed political cartoonist John Tenniel to illustrate Alice's adventures, Carroll and his publisher set a new standard for all children's books.
From the bulbous-nosed queen to the flamingoes-turned-croquet-mallets, Tenniel's illustrations helped children and adults make the imaginative leap from the written word to illustrative fantasy. Rich and intricate, his drawings encouraged children to linger in the story (as they still do).
Traveling to Strange New Worlds: The Fantasy Genre
"How puzzling all these changes are! I'm never sure what I'm going to be, from one minute to another."
While Alice's Adventures in Wonderland may not have been the first fantasy book for children, it is certainly one of the most popular and enduring. It's never gone out of print and has been translated into 176 languages.
In classic fantasy tradition, Alice journeys from her day-to-day world to a Wonderland that is populated by bizarre creatures and governed by its own rules, logic, and language. Traveling with her, readers become "curiouser and curiouser," coming to believe, if only for a few hours, that anything is possible.
Planning Your Own Summer Reading Adventures
Thanks in large part to Alice's legacy, we now have a wealth of books written specifically to engage young readers of all ages and interests—from the sports fan to the inventor, artist, or dreamer.
So, when choosing books for our Summer Connections Book Talks, we looked for the most beautifully written and illustrated tales geared to the interests of our own students. We even polled some students to make sure we were on the right track.
Here's a sneak peak at some of the books we'll be discussing this summer:
In A Wrinkle in Time, step through the tesseract (a wrinkle in time and space) with the misfit teenager Meg, her brilliant little brother Charles Wallace, and her friend Calvin as they try to rescue Meg's scientist father and the universe from IT, a terrifying pulsating force. Along the way, you'll meet the eccentric Mrs. Whatsit, Mrs. Who, and Mrs. Which. (Grades 6–8)
In James and the Giant Peach, join James as he escapes from his cruel and greedy aunts Spiker and Sponge by tunneling inside a peach as big as a house and inhabited by large, chatty insects. You'll love the rhyming songs of James's insect friends and the playful illustrations like the centipede's "footwear." (Grades 6–8)
Miss Rhumpius wants to travel to faraway lands, live by the sea, and make the world a more beautiful place. Will she succeed? Find out in this beautifully illustrated book, which was the winner of the 1983 National Book Award for Children's Picture Books. (Grades K–2)
Meet the Boy Who Harnessed the Wind. In this true story, you'll learn how 14-year-old William Kamkwamba helped save his village. Reading old science texts and scavenging for parts, he pieces together a windmill that brings water and electricity to his starving people. (Grades 3–5)
In The Unforgettable Season, you can travel back to 1941 to learn about two of the greatest baseball heroes of all time, Joe DiMaggio and Ted Williams. Loaded with fun facts and statistics, the book's illustrations capture the nostalgia and simple joy of the sport. (Grades K–2)
Join us for the Summer Connections Book Talk series to talk about these and other great books and to hear reading recommendations from other Connections Academy students.
Related Posts