How Adding Music Instruction Benefits K‒12 Students
byConnections Academy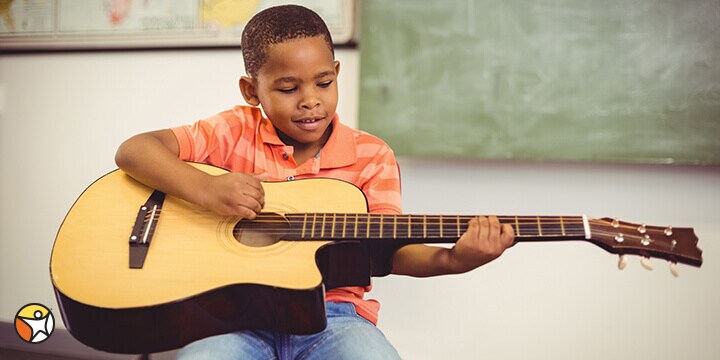 With so much focus on making sure students get a solid foundation in the basics and don't fall behind during distance learning, it may be easy to forget about music education for K‒12 students. But studying music in school is an important part of a well-balanced curriculum, and why Connections Academy® offers music as an elective at every grade level.
Why is it important for students to study music in school?
There are many benefits to studying music. It forges new ways of thinking, spurs creativity, and boosts reading and math scores. Music allows students to express themselves and gives them a sense of pride when learning to play an instrument or a new song.
Music and Brain Development
While listening to music is soothing, researchers have found that students who play an instrument receive the most benefit. According to a Northwestern University study on music education, students who played a musical instrument had better neural processing than students who simply listened to music.
So it's important to get your child actively engaged with music— even if it means a drum set eating square footage in your living room.
Here are three key areas where music can help your child and ways you can encourage learning through music:
Improving Reading Comprehension for K-12 Students
Music benefits children's language and reading comprehension. Researchers have found that students who study music have better vocabulary and verbal sequencing scores.1 They theorize that music enhances a child's ability to recognize patterns, which could help with decoding in reading. These skills are important building blocks of reading comprehension. And if you have a student who struggles with reading, giving them a creative outlet to develop their brains may take away some of the stress of learning to read.

Raising Math Scores
A study published in the Journal of Educational Psychology highlights the link between math scores and music. High school students who studied music in school received higher math test scores than their peers who didn't study music. In fact, students in this study performed better in math, science, and English.2 And the students scoring at the top were the ones who studied an instrument versus singing in a choir or studying music appreciation. In part, the researchers attributed the academic improvement to the high demands of musical instruction.
Gaining Social and Emotional Balance from Music Education
Through music education, students learn self-expression and creativity. Music can provide a way for them to give voice to feelings and ideas that may otherwise be difficult to express. And the practice required to learn an instrument or memorize a song helps students learn to focus on resiliency, perseverance, confidence, and calm.
It turns out that in addition to rooting them in cultural traditions, music education for kids makes them smarter and more in tune with their emotions. Along with our core curriculum, our online school students have options for art, drama, and music. Explore more on how our online clubs and activities work.

Related Posts