Hot Breakfast in a Hurry
by Beth Werrell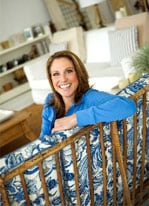 In a breakfast rut? Got the cold cereal blues? Or do you dole out breakfast bars like a Vegas card dealer? Never fear – I'm here to shake things up!!
Whole grain cereals and low-sugar breakfast bars offer a bounty of nutrients, but nothing screams COMFORT more than a hot breakfast on a chilly morning. Problem is, most people think a hot morning meal means setting the alarm 30 minutes earlier. Not so! And breakfast doesn't have to be traditional either. I think outside the box for ALL meals. I serve eggs dishes for dinner and dinner meals in the morning. Just because it's 6:00 A.M. doesn't mean I'm hungry for waffles. Why not have chicken egg rolls with leftover chicken from last night? Put shredded chicken in a flour tortilla with salsa and shredded cheese, roll it up, zap it in the microwave for 20 seconds and you've got a hot, hand-held breakfast! You can also assemble the egg rolls the night before, wrap them in plastic wrap and in the morning, just micro-and-go! A few more ideas to inspire you…
Be Creative: Don't relegate pasta to P.M. meals. Toss whole wheat pasta with cubed melon, sliced strawberries, blueberries, red grapes, and low-fat yogurt for the ultimate fruit-pasta salad. Add fresh mint or cinnamon for a twist.
Serve "Snacks" for Breakfast: And choose what you crave: some days you want salty, other days a sweet treat is in order. Some fabulous ideas:
Oat bran pretzels dunked in peanut butter or almond butter
Baked corn chips with mango salsa
Zucchini or little cucumbers stuffed with herbed goat cheese
Mozzarella, basil and tomato on a whole grains crackers or in mini pita pockets
Microwave popcorn with parmesan cheese or cinnamon and honey
Corn nuts with dried cherries
Think Ethnic: Mexican flavors (chili powder, cumin, jalapenos, salsa) liven up scrambled eggs and hash browns. Greek flavors (feta, tomatoes, oregano, olives) spruce up pasta and couscous. Warm Indian ingredients (cardamom, cinnamon, curry) are fabulous stirred into cooked rice with a little yogurt (add raisins and warm the mixture in the microwave for instant rice pudding).
Use the Slow Cooker: Assemble breakfast the night before and enjoy a hot meal in the morning without lifting a finger! Using the slow cooker gives you an excellent opportunity to include your kids in the breakfast-making process. As you add ingredients to the pot the night before, ask your kids what ingredients they want or don't want and ask them to help incorporate everything. It's a family affair and you can all look forward to breakfast the next morning! Recipes below.
Use the Microwave: The microwave can do so much more than reheat leftovers. When prepping the microwave meals the night before – get the family involved! Ask your kids to create their own meals for the next morning. It's a great learning experience and a wonderful time to bond before bed. Recipes below.
Breakfast Challenge:
I have a challenge for you! Tell me 5 ingredients that you have in your pantry or fridge RIGHT NOW in a comment and I will pick three reader's ingredient lists to turn into amazing breakfasts!
Join Us! Share your thoughts on Friday, February 12th on the Facebook Connections Academy Page. Try my breakfast ideas and tell me which one you liked best on the Connections Academy Facebook Wall!
Slow Cooker Recipes: Tex Mex Ham, Potato and Egg Casserole
Serves 12
Cooking spray
32-ounce bag frozen hash brown potatoes
1 pound diced cooked ham
1 1/2 cups shredded cheddar cheese (regular or reduced-fat)
12 large eggs
1 cup low-fat milk
4-ounce can minced green chilies
1 teaspoon dried oregano
Salt and ground black pepper to taste
Spray the inside of a slow cooker with cooking spray. Arrange 1/3 of the frozen potatoes in the bottom of the slow cooker. Top with 1/3 of the ham and 1/3 of the cheese. Repeat layers, ending with cheese. In a large bowl, whisk together eggs, milk, green chilies, oregano, salt and pepper. Pour mixture over potatoes, ham and cheese. Cover, set to LOW and cook 8-10 hours, until eggs are set.
Apple-Maple Cobbler
Serves 4
Note: This recipe also works great with frozen peaches!
Cooking spray
2 Granny Smith apples, peeled, cored and chopped
2 cups low-fat granola cereal
1/4 cup maple syrup
2 tablespoons melted butter or margarine
Vanilla yogurt, optional
Spray the inside of a slow cooker with cooking spray. Add remaining ingredients (except the yogurt) and toss to combine. Cover, set to LOW and cook 4-6 hours, until apples are tender. Serve warm with vanilla yogurt spooned over top if desired.
Overnight Brown Sugar and Cinnamon Oatmeal
Serves 8
Note: Feel free to stir in your favorite fruits – diced apples and pears should be added before cooking and fresh berries can be added just before serving. You can also add walnuts, pecans and almonds before or after cooking for a satisfying crunch.
Cooking spray
2 cups low-fat milk
1 cup regular rolled oats (not quick-cooking)
1/2 cup dried cranberries or raisins
1/4 cup light brown sugar
1 tablespoon melted butter
1 teaspoon ground cinnamon
Pinch salt
Spray the inside of a slow cooker with cooking spray. Add remaining ingredients and mix well. Cover, set to LOW and cook 5-7 hours, until oatmeal is tender. Stir before serving.
Microwave Recipes:
Egg and Cheese Taquitos:
Serves 4
4 large eggs
2 tablespoons milk
Salt and black pepper to taste
4 small corn or flour tortillas
¼ cup shredded Pepper Jack or Monterey Jack cheese
Prepared salsa
In a microwave-safe bowl, whisk together eggs, milk, salt and pepper. Microwave on HIGH 1-2 minutes, until eggs are cooked through (check eggs after 1 minute). Spoon eggs onto the center of each tortilla. Top with cheese, roll up and wrap in plastic wrap or a paper towel. Microwave on HIGH for 20-30 seconds, until tortillas are soft. Serve with salsa on the side for dunking.
Bacon and Swiss Frittata
Serves 4
4-6 slices bacon or turkey bacon
1 tablespoon butter
6 large eggs, lightly beaten
Salt and ground black pepper to taste
1/2 cup shredded Swiss cheese
Place the bacon between paper towels and microwave on HIGH for 2-3 minutes, until crisp. Crumble and set aside. Place the butter in a microwave-safe pie plate and microwave on HIGH 30 seconds, until melted. Spread bacon in bottom of pie plate. Top with eggs, salt and pepper. Microwave on HIGH for 2 minutes, until a wooden pick or knife inserted near the center comes out clean. Top with cheese and microwave on HIGH for 20-30 seconds, until cheese melts. Let stand 2-3 minutes before slicing into wedges.
Breakfast Spring Rolls
Serves 4
Note: This recipe works great with shredded apples and pears too. For a savory version, fill spring rolls with a mixture of pre-soaked bean thread (cellophane) noodles, shredded cabbage and carrots, soy sauce, and sesame oil before rolling up.
8 spring roll wrappers
8 teaspoons apricot preserves
4 small bananas, halved lengthwise
Spread apricot preserves on spring roll wrappers to within 1/8-inch of the edges. Top each spring roll wrapper with ½ banana and roll up. Wrap in plastic wrap and microwave on HIGH for 20 seconds.
Turkey and Swiss "Panini"
Serves 1
Top two slices of whole wheat toast with grainy mustard, smoked turkey, Havarti cheese, and baby spinach leaves. Wrap in plastic wrap and microwave on HIGH for 20-30 seconds, until cheese starts to melt.
Related Posts