Finding the Family Calendar App that Fits
by Dan Reiner
2 min to read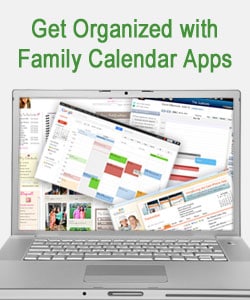 There are a variety of calendars you can use to keep you and your student organized in the virtual classroom. Calendars help families manage daily priorities, keep track of test days and due dates, and record new learning ideas and observations. But families can often benefit from a scheduling tool that offers more flexibility than a typical wall calendar.
That's where family calendar apps come in. With calendar apps, you can find a comprehensive system that's personalized to fit your family's needs. Most importantly, the right family calendar app can be shared with multiple family members and accessed from a variety of platforms.
When you start your search, learn everything you can about the application's capabilities, as well as its limits. Here are some crucial questions to ask:
Is the app free or paid?
What platform(s) is it available on? Is it an online, desktop, or mobile app? Is it made for Windows, Macs, or a mobile operating system?
Would the app be easy for all family members to use?
Does it offer the major features I'm looking for?
Take a look at our list of the top family calendar apps to find one that fits your needs.
Google Calendar (free) is one of the most flexible calendar apps. Each family member can have his or her own calendar and share it to keep everyone else in the loop. Google Calendar also syncs automatically across platforms and imports data from other apps to keep all of your information in one place.
Cozi (free or paid) is a popular app that can import your Google Calendar and share shopping and to-do lists. Cozi's shared calendar allows you to color-code different schedules, set reminders, and download the family calendar gadget to display your appointments on your Windows desktop.
HATCHEDit (free) is an app that keeps family communication in one place. It allows family members to share calendars, events, to-do lists, and much more. Like a social network, HATCHEDit even shares photos and updates.
Famjama (free) stands out because it allows parents to set up an administrator account. It can store important family documents and notes for caretakers, plus it can share weather updates, family announcements, and urgent messages.
FamilyWall (free or paid) functions as a social network for family members and offers standard communication features. It also stores important contact information in its Family Directory and information about places in Family Landmarks. Another great feature is that it alerts you when a family member has arrived in a location.
Any.do (free) is an effective to-do list app because of its simplicity. It has an intuitive interface so you can quickly view your tasks and events for the day or week. Download its Chrome browser extension to view Any.do on the web, and take a look at the FAQ page to learn more.
Wunderlist (free or paid) keeps track of events, due dates, notes, recurring tasks, and more. Besides sharing events, this to-do list app helps you collaborate on chores or projects by letting you assign tasks to your family members.
Do you use any of these apps to manage your busy household? If not, try a couple of these family calendar apps.
Related Posts