Father's Day Activities: 10 Ways for Kids to Spend Time with Dad
by Beth Werrell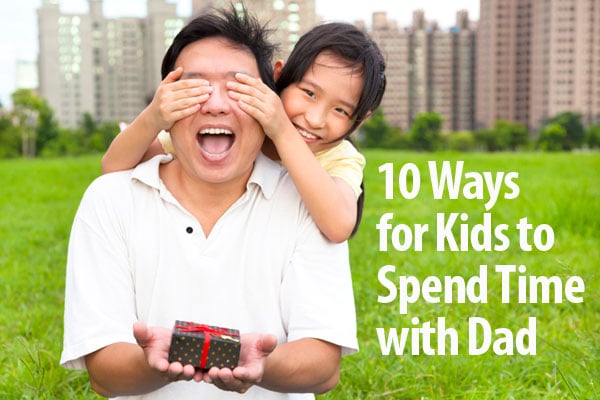 When Father's Day rolls around each year, it's customary to give Dad a card and maybe a present. You might even have a barbecue or a nice family dinner.
But if you want to truly thank Dad for everything he's done for you, spend some time with him. Here are some Father's Day activities to get you started.
Help Prepare One of Dad's Favorite FoodsAlone or with the help of your family members, plan and prepare one of Dad's favorite meals. You could surprise him with breakfast in bed or make him a special dish to take on a picnic. Another option is to ask Dad if he can show you how to cook his favorite food.
Create a "Dad Handbook" Think about all of the important lessons or skills your dad has taught you. Write them down in a handmade book or blank journal to create a "Dad Handbook." You can also write about favorite memories—and don't forget to add illustrations or photos. When you are finished, present the handbook to Dad on Father's Day so he can read it and display it on a family bookshelf.
Discover Dad's InterestsAsk your dad to share one of his interests or hobbies with you. For example, if Dad plays an instrument, he can teach you how to play a few chords, or you can simply make music with water glasses. If he enjoys art, go to a museum together. Everyone likes to share their interests with someone they love, so this activity will mean a lot to your dad.
Put on a Father's Day Game ShowDoes your dad like game shows? Host one for Father's Day! For example, you could develop a modified version of Jeopardy. Try to come up with your own trivia categories and quiz your dad on his favorite book, movie, TV show, or sport. Don't forget to test his latest pop culture knowledge.
Learn about Dad's Childhood and Family HistorySpend some quality time with Dad by asking him to tell you stories about his childhood. Ask him where he grew up, what he remembers about his house, what he did for fun, and how he earned money. How was your dad's childhood different than yours?Take this opportunity to learn more about your family history. Ask your dad to help you record your genealogy with this family tree activity.
Play Sherlock Holmes and Dr. WatsonIf Dad is wondering who took his bag of chips out of the kitchen cabinet, put on your detective hats to find out who did. Use your science skills to dust for fingerprints at the "scene of the crime" to help solve the mystery. Compare the fingerprints you find in the kitchen against those of your family members. Can you identify your suspect?
Take a Bike RideYou can't beat cycling along scenic bike paths, connecting with family, and exploring out-of-the-way sights as you go. Ask Dad to show you how to dust off your bikes and help him with any needed bike maintenance.
Build Something Together with DadDoes your dad spend a lot of time in his workshop? Learn something new from Dad. Build a tree house together, or start small by making a birdhouse or bird feeder.
Play Some Backyard GamesTry playing a sport that you and Dad are unfamiliar with—for example, have you ever played disc golf? Are you excited about this year's FIFA World Cup? You could show Dad how to kick a soccer ball or play some other favorite backyard games together. There are so many possibilities!
Give Dad a Special StaycationTo give your dad a unique Father's Day celebration, take him on a pretend vacation.First, design a paper plane ticket and present it to Dad early in the day. On the ticket, write down a destination he'd like to travel to.

Decorate the side of the couch to look like an airplane. Have Dad board the "plane" and put on a movie for his in-flight entertainment. Stop by once or twice to offer him drinks and snacks.

Next, while Dad is on the flight, decorate the house or backyard to look like the destination spot you have chosen. If Hawaii is the destination, for example, set up some beach chairs and create paper palm trees. Try cooking a dish or two of the local cuisine.

Last, help your dad off of the "flight" and lead him to the celebration. Greet him with decorations, food, music, games, and anything else you'd like to add.
Related Posts