Education Beyond the Core Subjects: Student Character Development
by Beth Werrell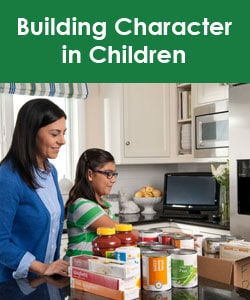 "We must remember that intelligence is not enough. Intelligence plus character—that is the goal of true education. The complete education gives one not only power of concentration, but worthy objectives upon which to concentrate." — Martin Luther King Jr.
When your student listens to a grammar lesson or struggles with a math concept, it's easy for both you and your child to lose sight of the deeper purpose of education. As Dr. Martin Luther King Jr. reminds us, school isn't just about learning how to read or scoring well on tests. Education is really about building character. In the coming months, we'll explore character traits and how you can help your child further develop these traits throughout the school day.
The typical virtual school day is busy, filled with reading assignments, discussions, research, activities, and more. For parents and teachers alike, developing a child's personality and character is often an important part of the educational philosophy.
Here are just a few examples of character traits that children should develop as they grow:
Citizenship
Empathy
Ambition
Courage
Morality
Understanding
Cooperation
Patience
Loyalty
Fairness
Self-Respect
Perseverance
Integrity
Respect for Others
Acceptance
Caring/Kindness
Friendship
Positivity
Honesty
Compassion
Generosity
Responsibility
Forgiveness
Self-Discipline
Dependability
Humility
Communication
Lessons about fairness are discussed in history, citizenship is covered in lessons about the government, and compassion is taught by reading literature. These character traits often develop naturally, but to strengthen your child's education even more, you can work on integrating purposeful student character education with daily lessons, activities, and more.
Keep character education in mind by taking a look at the list above and answering the following questions.
When was the last time you taught or reinforced a lesson about character?
Pick five character traits you think are most important. What are the reasons behind your choices?
Which character traits do you think your child could strengthen?
Which traits do you think make you an effective role model for your child? Which ones do you think you need to work on strengthening?
What major goals or "worthy objectives" does your child concentrate on regularly? What objectives could you work on together?
To provide you with some strategies for building children's character traits during the school day, we'll be covering student character development in more depth in future posts. In the meantime, let us know what you'd like us to focus on in the coming months. Which character traits should we explore?
Related Posts