Coordinate and Communicate: 10 Shared Family Calendar Apps
by Beth Werrell
4 min to read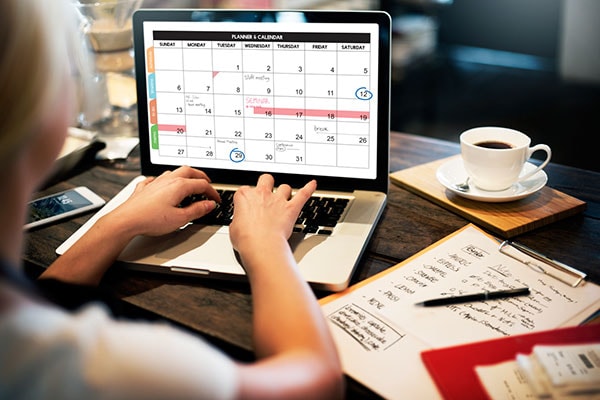 Coordinate, collaborate, and communicate—those are the things a shared calendar app will help you do with your family members. When everyone is synced together in the same calendaring system, all of you will be better able to coordinate your schedules, collaborate on event planning, and communicate pertinent information to each other.
Here is a list of ten new shared calendar apps that will keep your family's schedule (and sanity) under control.
Calendars for Basic Needs
When it comes to basic calendaring convenience, most individuals already use either the built-in Apple iCal or Google Calendar. To start sharing a calendar with your family, just turn on the "Family Sharing" option and invite your family members to join—and you are good to go. Both of these outstanding options offer every basic need, such as:
Calendar import from Outlook
Automatic syncing between desktop and multiple devices
Automatic backup
Color-coded calendars
Recurring event scheduling
If your family is interested in a calendar app that is a bit prettier and more personality-driven, consider downloading one of the following shared calendar apps.
Calendars for Home Management
UpNext is not only a shared calendar but also a personal assistant. Meant to be used in conjunction with Google Calendar and Gmail, this enhanced app will show you what is happening with your family members right now, and what's planned for the future. It will also give you a heads-up for traffic and tell you what time you need to leave in order to make it to your next appointment on time.
"This app is way better than using just Google Calendar. It shows me who I'm meeting with and exactly when to leave for my next meeting."
—Chuck atli
Family Organizer includes a daily planner, to-do lists, menu planning tools, a journal, weather forecasts, beautiful background images, customizable music tracks, and even mini meditation sessions.
"This app is my brain and I couldn't get through my day without it."
—Pumpkintine
TimeTree is a great shared calendar app with the added bonus of having an embedded chat space. This allows you to easily conduct a discussion about a specific event.
"It makes coordinating our family calendars a breeze! No more double booking!"
—KiMurph
Calendars for Co-Parenting
Fuzie was designed by parents who understand how important it is to simplify a co-parenting life. You can sync shared events and child exchanges while still keeping your private events to yourself. You can also easily send reminders and alerts within the app.
"Now I can finally schedule our time without the back and forth by email (and then having to dig up those emails that we sent months ago to see what we agreed on). I really like how Fuzie has the visual indicator that shows whose turn it is for custody. Thank you, thank you!!!"
—minikels62
Alimentor is for co-parents who need to track visitation time and expenses. This app allows you to align your custody schedule with daily events and holidays, and compare the established visitation schedule with actual parenting time via logged late pickups and missed visitations. If needed, you have the option of generating detailed reports.
"This has been a lifesaver! This is the only app I've found that tracks everything you need when it comes to documentation. The report output is perfect!"
—S78un78shine78
A Calendar for School
EduManager is a student homework planner that helps you track daily school assignments, projects, study times, and tests. Classes and homework information can be shared, making it easy to view student progress.
"Very easy to use. Keeps everything organized. You can even set reminders to do your homework. Best agenda app I've used yet."
—scoutwalker
Calendars for Fun
UpTo Calendar has two layers: your existing everyday calendar, and your personal interests calendar. Based on your likes and hobbies, public calendars will automatically populate your personal interests layer. These public calendars are able to show schedules of your favorite sports teams, TV shows, concerts, movie releases, and much more.
"I absolutely adore this calendar! I was able to delete four apps because this calendar app does everything those four apps did. The developers really thought of everything you could possibly want to put on a personal calendar."
—smusherface
Countdown App Free is a timer and reminder for your big event. You can count down to future important dates such as holidays, anniversaries, vacations, and other special occasions. This app counts either up or down by the days, hours, minutes, and even seconds. Customize your event backgrounds and share your excitement with your family.
"Love it! I use it all the time for vacations and for when my grandchildren are coming to visit. I send out the countdown pics to them and they get so excited!"
—Sissieapplespice
Many of these family calendar apps are free. However, don't shy away from spending a few dollars for one that will work particularly well for your family. The convenience may quickly prove to be well worth the money.
With a shared calendar app, you and your family will now stay on track, on time, and on the same page!
Related Posts