Let's Celebrate the Class of 2019 Online High School Graduates!
by Beth Werrell
3 min to read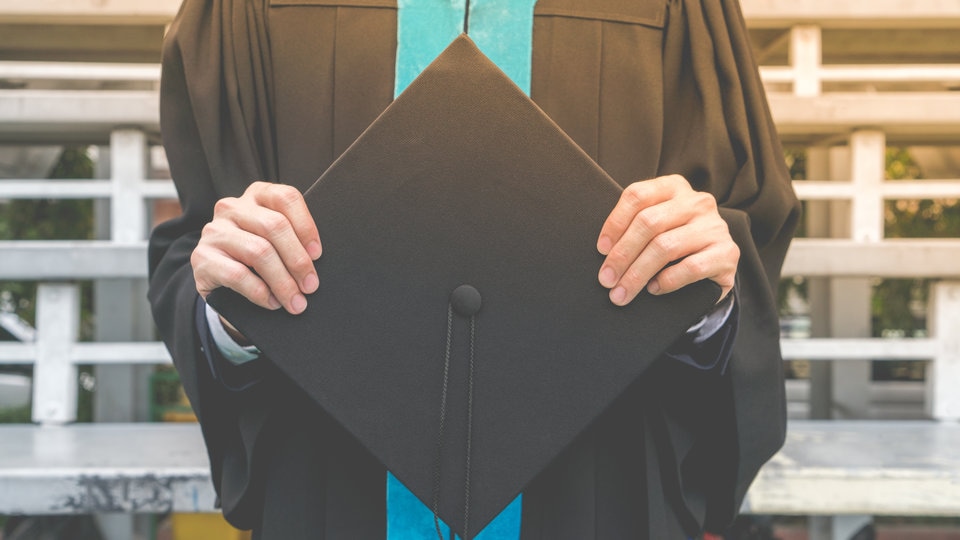 Congratulations to the class of 2019! Connections Academy–supported schools have an amazing group of students donning their caps and gowns to attend graduation ceremonies this spring.
In the second part of the Class of 2019 series (check out Part 1), we'll take a peek at what some of our standout students have done during their school years and what they have planned for the future!
Nygel W., one of the best young cellists in the U.S., spent his entire K–12 education online with Minnesota Connections Academy. Next up for Nygel, an honors student and 2019 Sphinx winner: the Curtis Institute of Music.
Colorado Connections Academy gave Jonathan M. the flexibility to play ice hockey competitively and travel for games with the Rocky Mountain Roughriders team. He flashed onto hockey scouts' radar screens after playing at the USA Hockey Select 16 Festival. He is now committed to playing with the Air Force Falcons men's ice hockey team, an NCAA Division I college ice hockey program that represents the United States Air Force Academy. In the future, he sees himself flying and being involved with space operations.
Georgia Connections Academy student Justin C. is graduating and on his way to Ohio State University with a full academic and athletic five-year scholarship. He plans to train for the 2024 Olympics and pursue studies in computer science and physical therapy.
Legacy M. is graduating from Texas Connections Academy @ Houston and leaving something of a legacy himself. He has been recognized as TCAH's Outstanding Male of the Graduating Class of 2019. His next step takes him to Baylor University, where he has been awarded the Provost's Gold Scholarship. Way to go,onor Society.
In her senior year of high school at Indiana Connections Academy, Ashleigh N. served as president of the National Honors Society, served as vice president of the Student Council, and was a member of the Math Club. She was also awarded a Barbara J. Dreyer Cares Foundation scholarship for $2,500 in honor of the Connections Academy cofounder. Ashleigh will attend Bethel University to study American Sign Language interpreting. This driven student then plans to pursue a doctorate in occupational therapy!
Student athlete Mickayla S. attends Indiana Connections Academy while training 20–24 hours each week with her gymnastics team and helping to take care of the animals on her family's farm. After graduating from INCA, she will continue her athletic and academic dreams at Eastern Michigan University. Mickayla will join the gymnastics team and continue her studies. We wish her all the best with her new endeavors!
Xavier N. graduates from Indiana Connections Academy with a 4.09 GPA and ranked tenth in his class. In addition to his schoolwork, Xavier is involved in 4-H activities including junior leaders and archery, while also taking time to consistently volunteer. Xavier was also awarded a Barbara J. Dreyer Cares Foundation scholarship for $2,500 in honor of the Connections Academy cofounder. Xavier will attend Butler University to study actuarial science. He plans to have a career in risk management.
Texas Connections Academy @ Houston graduating senior Elydia G.  received a $60,000 scholarship from Howard Payne University. She plans to major in early childhood education. Congratulations and best wishes for continued success!
Minnesota Connections Academy student Katherine P. enrolled in online school in November 2018 after her family moved from Mississippi. She quickly earned top grades and will finish in the top of her class. Katherine will be one of two high school student speakers at her graduation ceremony. Speaking on behalf of seniors is quite an honor. After taking a gap year, Katherine hopes to start college with an interest in neuropsychology.
Isabella R., one of two high school student speakers at Minnesota Connections Academy's (MNCA) graduation ceremony, graduated second in her class at the age of 15! She spent her K–12 years with the program and has greatly appreciated one of the school's greatest benefits—the ability to work at her own pace. MNCA also provided Isabella the flexibility to train in ballet and perform while taking a full load of honors classes, volunteering, and working on achieving the Girl Scouts Gold Award, which she just received.
Congratulations to these graduates and all of their peers graduating in 2019! We wish them continued success on their exciting journeys!
Related Posts