Choosing a Virtual School: Start with ABC
by Beth Werrell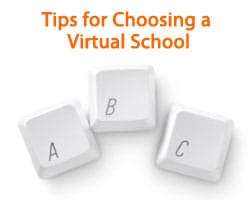 Believe it or not, there are now 2.5 million kids in the U.S. who receive some of their education online, while an estimated 250,000 students are getting their entire education virtually. Many parents consider virtual school because their children learn faster or slower than their peers; have special health, scheduling, or other needs; or simply do not thrive in a traditional classroom. The increased personalization and flexibility that online schools offer may enable these students to succeed academically, schooling at home at their own pace and at a level that suits their educational needs.
Families considering virtual schooling for students in kindergarten through twelfth grade should keep in mind that this educational method may not work for every student, or for every family. Careful consideration of the following "ABC's" of successful online schooling can help you determine if it's a good fit for your family:
If virtual school seems like a good fit for your family, do your homework and pick a high-quality school. Parents should look for a school with:
If you've already selected virtual schooling for your family, what helped you make the right choice for your child? How do you approach conversations with other parents about online school from home?
Related Posts