Tips for Balancing Parent and Learning Coach Roles
byConnections Academy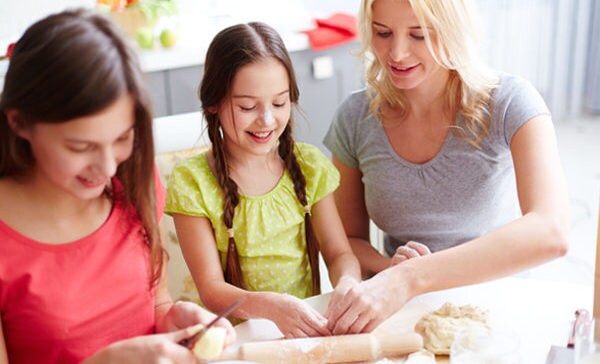 Are you juggling parent and Learning Coach roles but are occasionally unsure how to balance the two? Sometimes it can be unclear how and when to switch from being a parent to being a Learning Coach—and vice versa! Although you already have the "inside scoop" about parenting your child, here are some tips and tricks for keeping each role independent of the other.
What is the Parent's Role?
As a virtual school parent, it's important to nurture your child's relationship with adults who are positive role models and ensure that your student has time to socialize with other children. At Connections Academy® schools, families can attend in-person field trips and other school events so their students can meet classmates and make friends. Other families choose to socialize their children through participation in sports, scouting, 4-H, the arts, and community- or faith-based organizations. These interactions will help your child build self-esteem as well as communication, collaboration, and leadership skills.
Tips for Nurturing Children
Here are a few fun ideas that come highly recommended from experienced virtual school families:
Show curiosity in your child's hobbies, and have him or her teach you about each interest by asking questions.
Invite your child's friends over. Help organize a summer camp in your backyard.
Find new ways to help your child de-stress with relaxing activities you both can share.
Plant a family garden with your child and watch it grow.
When Should I Be Nurturing?
There's a time to be a nurturing parent and a time to provide your child with structure as a Learning Coach. But where can you draw the line?
When the school day is over, or during breaks: Once your child is done working and has completed each assignment or instruction to the best of his or her abilities, plan fun activities that help build family traditions.
When your child tackles difficult tasks: Rewarding your child's successes is one of the best ways to support him or her emotionally. Validating your child's feeling of accomplishment is important for his or her self-esteem. Consider making a student reward system with your child to help keep him or her motivated throughout the year.
When you can share teachable moments: When your child is not working through assignments or problems, doing simple chores around the house can be an opportunity for both of you to bond. Celebrating spring with family spring-cleaning can be a great way to bond and instill lessons.
What is the Learning Coach's Role
Aim for focus and structure. Successful Learning Coaches tell us that one of the most helpful things you can do is to provide structure throughout your child's school day. They suggest that establishing schedules and routines will lay the groundwork to help your student tackle tough subjects and become an independent, lifelong learner.
A Learning Coach may choose to do this by implementing a daily schedule for the family and providing rules and guidelines to help keep the student focused. Consider a parent–child contract to keep your student engaged in the learning process.
A structured learning environment and guidelines provide a good framework for supporting your child's learning style and helping instill effective study skills. Occasionally, your child may experience a certain level of frustration when learning new subjects, but you can opt to let your child struggle for a bit before deciding to get involved. This helps empower your student to persevere and keeps him or her motivated to learn.
Tips for Maintaining Focus and Structure
Building focus and structure in your child's life may not come as naturally as nurturing your child does. Here are some simple tips and strategies recommended by experienced Learning Coaches:
Create a chore chart and reward system.
Have a written-out schedule each school day.
Set daily or weekly limits on screen time.
Don't offer to help before your child tries to work through a problem independently.
Be a role model for self-discipline by doing your own chores before you relax for the night.
When Should I Encourage Focus and Structure?
Providing structure for children at appropriate times encourages growth just as much as nurturing children does. Here are some times to consider adding more structure for your child:
While your child is working through assignments: Sometimes being a Learning Coach means resisting the urge to give your child answers and, instead, encouraging him or her to work through problems. If your child pushes back, consider using a kitchen timer to establish an amount of time he or she must attempt to solve the issue independently. Guiding students through their learning process will help them become more independent learners over time.
When your child complains or constantly exhibits negative behaviors: Children know how to push their parents' buttons! In "Learning Coach mode," it is particularly important that you respond consistently to a child's actions. If he or she has complaints or exhibits negative behaviors, we recommend that you require your child to be part of the solution by encouraging him or her to provide positive solutions.
When your child resists doing lessons: Somewhere during the learning process, your child lost motivation. It's important to identify the larger issues and avoid oversimplifying your response. Many teachers and experienced Learning Coaches reengage students by explaining how the subject matter is relevant to real-life situations. You may also want to talk to your child's teacher and ask for suggestions.
Balancing the Two Roles
As your child progresses through online school, there may be times when your structured Learning Coach self struggles with your nurturing-parent self. Don't sweat it! The most important part of taking on both parent and Learning Coach roles is maintaining an overall balance—and showing your child the high value you place on education. This balance—and your involvement—helps encourage your child to develop life skills and emotional health.
To learn how you can be more involved in your children's education with more opportunities to provide meaningful input, visit the website for Connections Academy online public school. Or to learn about online private school, visit Pearson Online Academy 's website.
Related Posts