8 Tips You'll Need to Start the School Year as a New Learning Coach
by Beth Werrell
3 min to read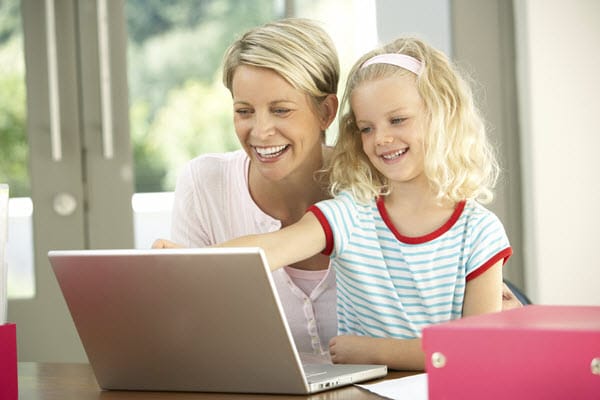 When you decide to enroll your child in a K–12 online public school and become a Learning Coach, it's not unusual to feel a bit overwhelmed by your new role. The following tips are designed to help you get started and build a strong foundation for a successful year:
1. Successful Learning Coaches make organization their superpower!

One of the most important responsibilities of a Learning Coach is to provide the organization and structure students need to excel. Kids of all ages benefit from a tidy learning space where supplies are easy to find. Help your child create a filing system for classroom materials and a calendar for tracking due dates, project deadlines, and activities.
2. Time management is key.
Younger kids (and even some high schoolers!) require extra support with time management. This could include setting timers or alarms, helping establish deadlines, providing five-minute warnings before changing activities, or teaching them how to divide a large project into smaller, more manageable chunks. Learn more about time management for Learning Coaches.
3. Take a sneak-peek preview of the week.
Many Learning Coaches advise taking an hour or two each weekend to prepare for lessons scheduled for the coming week. This sneak peek gives you the opportunity to print out assignments, make a note of deadlines and assessments, purchase any needed supplies, and adjust your children's schedule for more time-consuming projects. Looking at the entire week also enables you to see the big picture as you guide your child's learning.
4. Create a balance of flexibility and routine.
While freedom and flexibility are hallmarks of an online school, many students benefit from a regular daily routine with times allotted for meals, lessons, recreation, and other activities. When the schedule varies, it may be valuable to display the day's itinerary so children know what to expect. Learn more about setting up online learning routines.
5. Your child's teachers can be your most valuable resources.
Online teachers are education professionals who are state-certified and fully qualified to teach in any setting. At Connections Academy, instructors also receive in-depth training in online instruction. You can turn to these caring professionals to discuss your child's progress and comprehension, for insights into your role as Learning Coach, and for helpful motivational techniques. Instructors may also connect you to resources you may need, such as online references, guidance counselors, and other families.
6. Clubs and activities can motivate and engage your child in learning.
Everyone loves having choices—that's why some online schools offer assorted student clubs and extracurricular activities for students. Whether your young learner is interested in the arts, science, games, or helping others, he or she is sure to find a club that's a good fit—and others who share the same passion. Exploring a shared interest not only encourages kids to pursue lifelong learning, but also builds lifelong friendships and a sense of community.
7. Field trips and events help you get connected.
Online learning extends beyond the computer—and into life. Attending field trips is a great way for you and your child to apply the concepts learned to the real world—and to make face-to-face connections with other members of your online learning community. Not only will students benefit from social interaction, but so will you. Meeting other parents in person makes it easier to form friendships and make connections so you can compare notes and exchange ideas.
8. End the day on a positive note.
Even on days when you are struggling, remind yourself to end each school day by giving your child a bit of praise, encouragement, or affection. You've both worked hard to adjust to a new way of learning, so you've earned it!
With these hints, the support of your child's online teacher, plus a healthy dose of commitment, you'll be well on your way to becoming a fantastic Learning Coach and enjoying the rewards of being part of your child's growth every day! Get more tips on being a Learning Coach.
To learn how you can be more involved in your children's education with more opportunities to provide meaningful input, visit the website for Connections Academy online public school. Or to learn about online private school, visit Pearson Online Academy 's website.
Related Posts