6 Signs It's Time to Get Your Child a Tutor
byTodd Leiter-Weintraub
6 min to read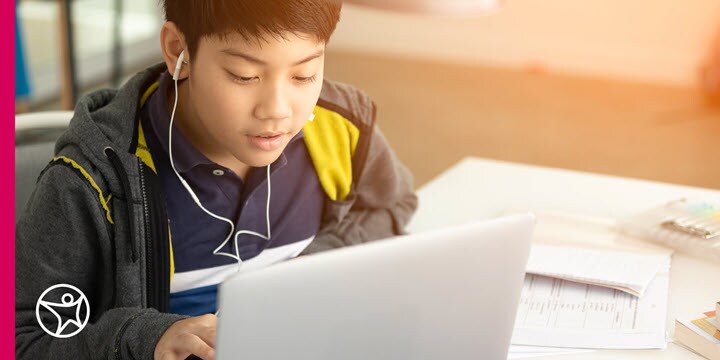 No matter what reason you chose online school—scheduling flexibility, student safety, college prep, or something else—it offers something that in-person schooling cannot. Connections Academy takes pride in helping your student learn in the way that is best for them. But sometimes, they just get... stuck.  
And if they do, it's important to bring in a tutor. Somebody who has in-depth knowledge not only of whatever subject your student is having difficulty with, but who also knows how to implement effective study strategies that will address your student's individual learning needs and provide the academic support that they need to get back on track. 
But how do you know when to start looking for a tutor? And what are your options? 
Look for these 6 signs to see if your child needs tutoring
When deciding if your child needs tutoring services, here is what to look for: 
1. It's obvious your child needs extra help in school. 
Consistent underperformance is a strong signal. When grades are not matching up with your student's potential, they are most likely struggling in school and need to start working with a tutor.  
2. Difficulty getting started on their work.  
It may not be lack of motivation that is keeping your student from sitting down and getting their work done. They might be frustrated. They know they can do better too, but just don't know how. And when they just aren't getting it, it's easier to put it off. Some extra academic support can help. 
3. A lack of organization.  
If your child just can't seem to get their schoolwork organized, it could be the symptom of a learning disability or executive functioning disorder. The extra help offered by a tutor can provide them with organizational and learning strategies that will help them deal with and overcome these challenges. 
4. Low self-esteem.  
Consistently struggling in school can take its toll on a student's confidence. But with a little extra help, your child can start to understand the concepts that they are being taught and see improvement in their grades. It's amazing how quickly you can see a turnaround, not only in grades, but in how your student feels about themselves. 
5. A loss of interest in their studies.  
Sometimes, when a student isn't fully grasping the concepts that they are being taught, it's easier to just give up than to re-double their efforts. Tutoring services will give them a little extra attention, and can help your student re-focus and start to absorb the material.  
6. You take on more responsibilities outside of the home.  
Life happens. And while your child's Learning Coach—whether it's you or somebody else—makes every effort to be there for your student, sometimes your student just needs a little bit more than they can provide. Using a tutor to take on some of your load can not only provide extra academic support, but can also help you become a more effective Learning Coach in the time that you do have. Check out how these Connections Academy families with working parents made virtual school work for them. 
How online school can help
If you notice that your student is struggling, talk to their teachers to see what kind of tutoring options are available. Online school was designed to accommodate different learning styles; to be flexible and allow each student to learn in the way that is best for them. When your student struggles, there are options to give your student the bit of extra space and time that they need to get back on track with their studies. And hiring a tutor can help. 
During the 2021–2022 school year, Connections Academy is offering LiveTutor programs for free to all who enroll. LiveTutor is considered homework help for math, science, social studies, and English that is designed to help your student learn in a way that works best for them. 


Also during the 2021–2022 school year, we are offering Time to Talk language sessions as another free perk to all students enrolled. Time to Talk language sessions are designed for elementary and middle school students enrolled in either Spanish or Chinese to practice their speaking skills with a native speaker. Tutors assist them in various practice activities focused on word recognition and pronunciation. 
All Connections Academy tutors are degreed teachers who are certified in their fields. They work exclusively within our programs LiveTutor, PeerTutor, and Time to Talk. They meet with students and their parents—via telephone, Internet, and various curriculum tools—to make sure that each student has the best chance for success in their online school programs. To get in touch with a Connections Academy tutor for your student, contact your student's teacher or a school administrator. 
When looking for a tutor, you have options
Depending on your student's needs, hiring an outside tutor can be a good option. You could hire local certified teachers, nearby college students, professional tutors via online services, or simply pay for an on-demand, online tutoring service. Keep in mind there are certain things that you should look out for before hiring a tutor: 
How do I find a tutor? 
Explore your local resources, check out online reviews of tutoring websites, review local university job postings for high-performing college students willing to tutor, and tap into personal connections to get recommendations.  
How much experience does the tutor have?  
There are a couple types of experience that you need to consider: experience tutoring and experience with the specific subject. For more academic subjects, like physics and higher-level math, you want somebody who has more experience and in-depth knowledge of the subject. Just as important is how much experience they have teaching. The more experience the tutor has, the more likely they will be able to adapt to your student's individual learning style.  
Are they familiar with the online school model?  
With your student attending school online, the tutor you hire should have at bare minimum, a passing familiarity with the way that your student's day and online lessons are scheduled. 
How quickly do they respond to messages?  
Communication is key if you are going to have a successful student-tutor relationship. Make sure that they are responsive. 
What does your student think of the tutor?  
This is a one-on-one relationship. If your child isn't on-board with the tutor's teaching style or their personality, it's a relationship that is bound to fail. 
Your child won't always tell you when they need help in school. Stay attentive and pay attention to their behavior and what they tell you. Doing so can help you get a better understanding of when they are struggling at school and may need a little extra help. 
Sometimes a child's behavioral change could be the culprit of your student suddenly struggling in school. Learn how to navigate four of the common behavior changes in children to get your student back on track towards success! 
Related Posts