The 5 Best TED Talks for Kids and Parents to Watch Together
by Beth Werrell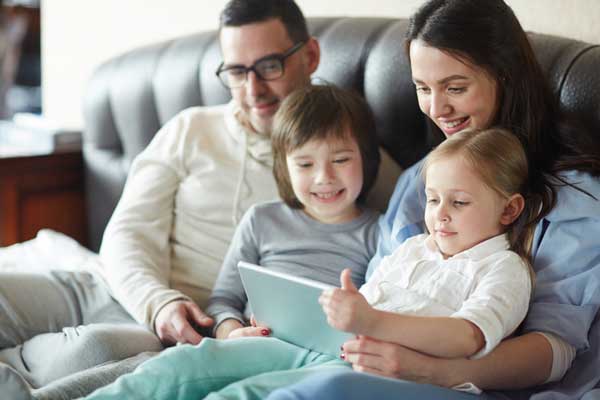 Adults around the world have been watching TED Talks for over a decade, but there are also amazing TED Talks for kids. These videos are recorded at TED conferences all over the world and are incredible for opening up the lines of communication within the family and your community. They are also excellent tools for homeschool lesson planning. We at Connections Academy would like to share some of our favorite thought-provoking TED Talks that you can watch with your kids.
"How I Teach Kids to Love Science," by Cesar Harada
Cesar Harada teaches citizen science and invention to students ages 6–15 at Hong Kong Harbour School. He takes a very hands-on approach not only to teach principles of science but also to open the eyes of the children to the problems that exist in today's world and discuss how students can help solve them. In this video, he explains how the class analyzed plastics in ocean water, and how he worked with other adults to measure radioactivity in water and soil as a result of the 2011 earthquake in Japan. In the classroom, Cesar shared the data collected and worked with students to use science and their creativity to design tools for improving water quality and to develop working prototypes. This great video shows kids that their imaginations are vital to our planet and our well-being and that their ideas should always be respected and encouraged.
"The Survival of the Sea Turtle," by Scott Gass
This wonderful animated TED Talks Education piece is not only a lesson about the life cycle of the sea turtle from the hatching of the eggs to the age at which the turtle can start to reproduce (around 20 years old), but also a wake-up call to how human impact is greatly reducing the survival rate of the sea turtles. This short video is a life lesson on what not to do on our coastlines and what kids can do to change this trend.
"How I Harnessed the Wind," by William Kamkwamba
William Kamkwamba was 14 in 2001 when a great famine hit his farming community in Malawi, Africa. In this video, he tells the story of how he searched for a solution by educating himself with books and magazines and refusing to give up. Using materials he found in a scrapyard, William constructed windmills to generate electricity and pump water. His most powerful lesson for those who are struggling with their dreams is to trust yourself and believe.
"How Sportsmanship Can Save the World," by PR Smith
PR Smith shares anecdotes of epic sporting events to reveal how good sportsmanship can change lives in many ways. In this video, he discusses the goals of the Olympics, which were originally planned to stop citizens from fighting and warring so as to allow them to come together for a brief respite of games, to "foster friendship" and to "bring people from different nations closer together." His stories reveal how the actions of kind, thoughtful athletes teach the value of integrity and nobility, saying that dignity and graciousness are the keys to the games, not winning a medal or a trophy. He believes sportsmanship can boost optimism in humankind and help us all become better global citizens.
"The Danger of Silence," by Clint Smith
There is no denying that today's world is a crazy place for kids and grown-ups alike. It can be difficult for parents to figure out how to talk to their children about what worries them today: gun violence in school, gender identity, racism, and overall intolerance. In this moving piece by Clint Smith, he shares the four principles he uses in his classroom: read critically, write consciously, speak clearly, and tell your truth. He helps us identify that our silence is just as damaging as our negative speech.
Browse the Connections Academy website for many more resources and fun educational experiences for the whole family.
Related Posts