3 Reasons Why Learning Pods Can Help Your Online Student
byBrenda Bonds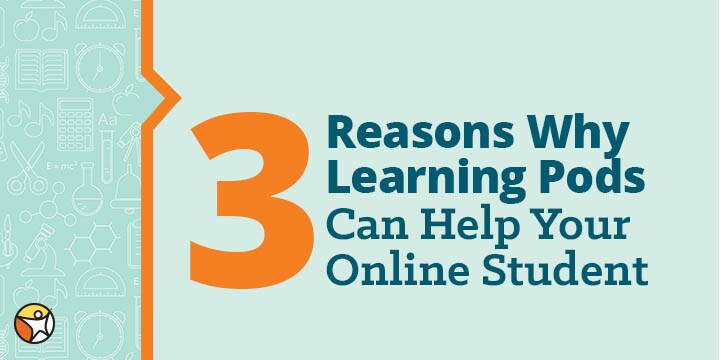 What is a Learning Pod? 
Learning pods, or micro-schools, are small groups of students who learn together. These are usually coach-led groups of 5–10 students and can be of any age. By providing a coach, learning pods offer a practical option for families who want small-group learning and need childcare during traditional school hours.  
Why Should My Family Try a Learning Pod? 
Younger children often require supervision, and many parents who have been thrust into emergency remote learning struggle to balance work with monitoring their children's education. According to the National Women's Law Center analysis of the Bureau of Labor Statistics, almost 1.1 million workers left the workforce between August and September 2020, and more than 865,000, or 78 percent, of them were women. McKinsey & Company's annual Women in the Workplace report found that mothers are three times as likely as fathers to cover housework and childcare during COVID-19. Learning pods can meet the need for families who don't have readily available childcare and who are interested in enrolling their children in alternate education models. 
3 Reasons Why Learning Pods Work 
Lack of Socialization is the #1 Reason Students Struggle 
A small group size makes it possible for each student to receive individualized help and attention while still being connected to others. Students in learning pods benefit from the social setting of learning with their peers—the lack of which is the #1 cause that students leave online schools. 
Survey results have shown that many parents are concerned that decreased social interaction will negatively affect their children's emotional health, as compared to spending time with others who could expose them to COVID-19. 
Sixty-Five Percent of Families Have Both Parents Employed 
Childcare is one of the leading factors for the need for learning pods. And it appears that this need will continue after the pandemic subsides, as families become more knowledgeable and successful in managing their own learning pods and education of their children. 
Seventy Percent of Teachers Are Interested in Using Pods 
Consistency in a crazy year, staying safe, and having more choice in their day are all reasons why teachers like small groups. 
Teaching in a learning pod, where they can limit the class size and get to know every family, gives teachers more options to help your child learn. From leading the class outside in nice weather to group STEM activities, your online student gets the best of both worlds. 
There are several benefits for families and students, such as supporting socialization opportunities, alleviating childcare challenges, and small-group learning. Learn more about different learning methods and how to find the best instructional approach for your family.  
Related Posts