2-Minute Quiz: Is Virtual School Right for Your Student?
by Beth Werrell
4 min to read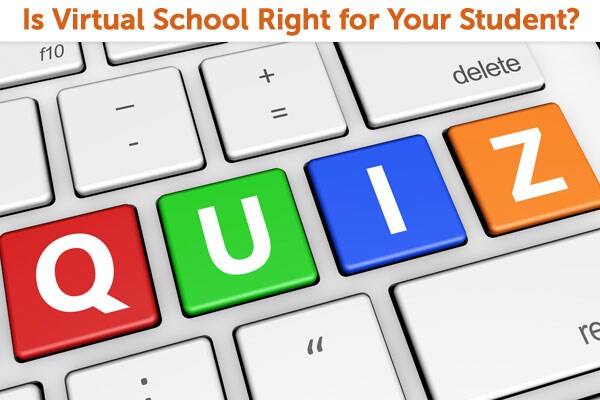 Deciding to enroll your student in virtual school is not a decision to make lightly. Every student and family has unique needs and circumstances, which can make choosing an online school seem challenging. And while online school has a number of benefits for both student and parent, it may not be for everyone.
The key to this challenge is gathering the right information to make an informed decision you can feel confident about. At Connections Academy®—supported schools, we want to supply you with as much of that information as we can. It's our hope that this quick two-minute quiz will help you get one step closer to deciding if virtual school is right for your student.
Explore the five questions below and choose the answer that most closely describes your situation.
When it comes to the physical workspace in your home, you currently have:
a) An office or den with a computer and Internet connection where doors can be closed
b) A laptop and Internet connection that your student can use in any room of the house
c) A desktop computer and Internet connection in a popular area of the home, such as the family room
You would describe your daily schedule as:
a) Flexible and fairly open—you often have periods of free time throughout the day
b) Busy but not overwhelming—you have time throughout the day to check in with your student
c) Nonstop—there's always something to do and somewhere to be
The primary reason you're researching virtual school for your student is that:
a) Your student currently isn't being challenged enough or does not have the individualized attention he or she needs to succeed in school.
b) Bullies at your student's current school are a major concern and you'd like to get your student into a safer environment.
c) You're looking for an easier, less rigorous academic curriculum for your student.
Your student's learning style is best described by which of the following statements?
a) Open to working both independently and in partnership with others, while being motivated to chart his or her own path to the future
b) Open to spending a great deal of time online and working with technology
c) Thrives in group settings and through visual learning—"seeing is believing"
As a parent, your main concern holding you back from choosing virtual school is:
a) Whether or not your child will still be able to socialize regularly
b) If your child will miss out on fun, adventurous learning activities like extracurriculars, clubs, field trips, and events
c) Whether your computer and Internet connection are reliable enough for a virtual school curriculum and the required software
The Results
Tally up the number of answers you chose that were As, Bs, and Cs. Refer to the results below to see if virtual school is right for your student and family.
Mostly A's
Virtual school is most likely a great solution for your student and your family. While you may still have more thinking to do, it appears that not only do you have a suitable work space for your student to thrive with online learning, but also you have the right mind-set and reasoning behind choosing virtual school. You are considering virtual school for all the right reasons, and your student has characteristics of a successful online school student.
Check availability or view the enrollment checklist to get the enrollment process started today.
Mostly B's
Virtual school could be the right solution for your student and family. You may have an ideal workspace and the right amount of time to devote to supporting your student's online learning success, but you may want to consider making some adjustments to other factors in order to give your student the best possible opportunity to succeed. It's best to do more research or talk to a Connections Academy parent before making a final decision about virtual school.
Mostly C's
You may need to change some aspects of your family's lifestyle or environment to help your student succeed in virtual school. Your home classroom may not be ideal for concentration, but perhaps simple adaptations and organization tips could could make it work. Or, if the amount of time you can dedicate to keeping your student motivated doesn't seem suitable, perhaps you could share Learning Coach duty with another trusted adult. And if having a reliable computer is a big concern, you should check to see if the school in your state will provide a computer for your student to use—some do.
Whatever your reasons for choosing mostly Cs may be, you may want to take a step back and learn more about online school and how it works. Remember that a virtual program like Connections Academy is a rigorous academic curriculum that requires regular motivation and cooperation from loved ones, so it's important to prepare for success! If you have additional questions, take a look at our frequently asked questions and answers.
We hope this speedy two-minute quiz provided more insight into whether your student is an ideal candidate for virtual school. Whatever you decide is the right decision for your student's unique needs, and if you need assistance, we're here to help. Call us at 1-800-382-6010 today!
Related Posts