101 Cherished Moments from Our Virtual School Journey
byCarrie Jean Ross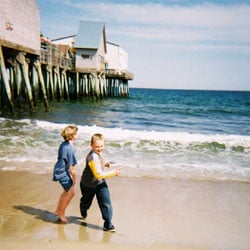 Each time I place one of my daughter's graduation announcements in an envelope, these words jump off the page as though I'm reading them for the first time. "We are pleased to announce the graduation of our daughter from INSPIRE Connections Academy." This shouldn't come as a surprise to me. The final assignments have been completed, the ceremony planned, graduation announcements mailed, cap and gown have been purchased, and the diploma is being printed.
My daughter and I have spent over a decade together working toward this moment. As she readies herself for her big day, I can't help but look back in amazement at everything she's accomplished and the academic milestones she's reached along the way. Starting the education journey with a virtual school seemed like an easy decision to make for both of my children. It was the right choice. I made it for all the right reasons—exceptional teachers, specialized and engaging curriculum, and pristine school track record. I saw my son graduate in 2009 and am now seeing my daughter reach the starting gate for the rest of her future too. I have a deep assurance in my heart that my choice was the right one.
As I thumb through pictures from the past 15 years, I am in awe of another precious gift that the virtual school choice has given me. Flexibility—a simple word that delivered more than I had ever hoped for. While the school helped prepare my children with the book knowledge they needed, it also offered us the rare gift of time that has bonded us together as a family. Working together with the school teachers, our family was able to structure the school day schedule and overall schedule without sacrificing the requirements of a quality virtual school. This scheduling flexibility allowed us to accommodate a variety of unexpected opportunities our family may have otherwise missed out on. And still, my kids learned everything they needed to excel and prepare for their transition into adulthood. Here are some of the most cherished memories of things we experienced during our virtual schooling years:
Slept late because we stayed up all night watching meteorite showers
Found a beautiful rock, and another, and another
Built a rock garden
Created a family museum
Took spontaneous family road trips
Ate a lot of lunches together
Had Wednesday night pajama parties
Camped out in the backyard
Made pumpkin pies from scratch
Watched Sammy Sosa hit a home run
Cried together on 9/11
Spent hundreds of hours volunteering in our community
Planned gardens
Gathered cool leaves during long walks
Walked in a parade
Read books on a trampoline in the warm spring sun
Searched for items on scavenger hunts
Made kites without a kit
Found the longest string possible to see how high the kite could go
Chased a kite until we couldn't see it anymore
Laughed so hard we cried, and then did it again
Felt the sand on several beaches
Jaunted out for a picnic lunch by a lake
Cuddled up for a long winter nap
Saw every animal in the zoo
Watched puppies born throughout the night
Started a business
Played backup "mom" for my daughter's babysitting jobs
Advocated as a family for school choice in our own backyard
Patiently built models from start to finish
Fed a tomato worm because there was a chance it was a caterpillar
Found a real caterpillar and watched it turn into a butterfly
Tried amazing new hobbies
Finger painted with chocolate pudding
Celebrated the first "A" on every report card together
Heard the first words read aloud
Experienced countless AHA! moments
Brainstormed to overcome obstacles
Made homemade presents for each other
Racked up countless smiles with heart-shaped apple slices served during math lessons
Learned how to connect with outstanding teachers
Played in the mud during science lessons
Dissected owl pellets
Raised pigs
Delivered a surprise party in the middle of the day
Started new family traditions
Took a three-day train trip through the Rocky Mountains on the California Zephyr
Cuddled up together during social studies LiveLesson® sessions
Climbed mountains
Supported community orchestras
Helped friends in need
Cooked for a party of a hundred friends
Watched baby birds hatch
Went spelunking in the North Dakota Jewel Caves
Overcame fears to try something new
Walked a mile on the Oregon Trail with new friends
Made new family friends all over the world
Celebrated the first day of school with a sleepover
Explored a lava tube with flashlights
Created our own school yearbook pages
Surprised friends with flowers
Experienced the joy of teaching kids about random acts of kindness
Reported a fire and saved a home
Tore apart used appliances and put them back together again
Created a scale model of the solar system with friends
Buried a time capsule
Planted trees
Learned that math wasn't just numbers on a page
Raised money to help tsunami victims
Made bird feeders every fall out of pinecones gathered on evening walks
Constructed obstacle courses for rainy-day fun
Celebrated good news together the moment we got it
Learned to play the djembe together
Declared every first snowfall of the year an official snow day
Played in the rain and got as wet as possible
Picked apples and berries in secret spots
Took cooking classes together
Learned first aid and put it to good use
Put family first on several occasions
Learned to get along together, even when it wasn't easy
Hunted down ingredients for old family recipes
Floated the river on a warm September day
Went fishing
Mastered the snowboard
Studied American Sign Language as a family
Shot off on a virtual trip to the moon
Shared innumerable spontaneous moments of happiness
Helped my kids achieve their best, even when it wasn't easy
Ran out the door to see critters in the field
Survived driver's education twice
Listened to old-time radio shows while sipping hot chocolate and nibbling cinnamon toast
Hosted Tuesday afternoon art parties with friends
Spent the day "in Greece" with webcams and Greek treats
Watched pheasants flock together in the field and cranes in the pond
Cared for sick friends in need
Spent a month in Texas to help a grandparent
Spent a month in Maine to help a grandparent
Watched street performers in Seattle
Answered the question "why?" thousands of times
The few memories I've gathered together on this list will continue to grow, as I'm sure yours will too.
Related Posts