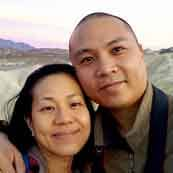 "We found California Connections Academy when we researched online to find out about alternative school for our kids.We learned more about their offerings from the website and read reviews on various forums where Connections Academy was highly recommended.
We love the quick feedback we get on their coursework and tests. When a lesson is done, it's submitted and in many cases instantly graded. The kids enjoy this aspect as it gives them positive reinforcement and a sense of real accomplishment. Now, after two years, they've come to fully manage their own education! We daresay that they are now pros at this.

"California Connections Academy gives our kids a real opportunity to manage their own education, and its flexibility allows them to push the boundaries of what they can learn in a very efficient manner."

— Ernie and Vincent
Our daughter, Ede, has always wanted to learn Japanese, which will be needed for her professional artistic career in the future. With Connections Academy online learning, parents can learn alongside their children. This has made Japanese enjoyable not only for Ede but also for us parents. .
In Adler's case, he excels at programming and has done many projects already. We encouraged him to use his skills in various school projects. Because of this, and with his teacher's blessing, he has discovered an outlet where he can create real applications and games to share with his classmates and teacher. This has kept him engaged and allows him to further his studies in technology.
There are various ways our children stay connected with friends and teachers. They stay in touch with old friends and also make new ones through meet-ups, school clubs, online chats, phone calls, and even online gaming activities. We stay connected with teachers mostly through WebMail messages and phone calls when necessary. Everyone is so helpful, and Connections Academy makes it very easy to get assistance when needed.
Adler plans to start a business in virtual reality and robotics. He finishes his school lessons early on most days. He then dedicates time to learning computer programming.
Ede enjoys illustrations and Japanese animation and aspires to have a famous anime/manga studio. She incorporates her talent and skills every chance she gets through school projects and club activities. Recently she taught a Connections Academy live pop-up lesson on Japanese manga. Through the pop-up lesson, she demonstrated her drawing skills to help teach others. There were over a hundred students, and she was excited and enjoyed the opportunity.
In comparison to a bricks-and-mortar school, we believe our children's online experience suits all of our needs much better. For parents who want a completely hands-off experience, this might not be the right choice for them. However, for parents willing or wanting to be more involved with their children's education, Connections Academy provides a top-notch framework to do this. These past two years have provided our family a unique opportunity to learn together and simply be together more."