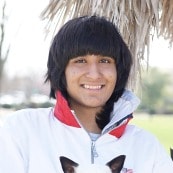 Why I Chose California Connections Academy
"My family was looking for an online school that's well- organized and would be easier to deal with than the last one I attended. California Connections Academy offers a very structured curriculum and makes things clear and simple. The website of the courses is easy to navigate and fast. The support for the website is very quick if I encounter any issues.   
The support I get from my teachers is also quick and efficient. They answer my questions in a polite and respectful manner and are caring and punctual about the schedule and timing of the course material. If I'm ever behind in my homework, they guide me in the right direction. 
My favorite subjects are music, math, and science — I'm most passionate about music. In fact, I hold two world records for playing 107 musical instruments. Recently, I was selected to attend Grammy Camp, which is offered by the Grammy Museum. I also like drawing and painting, cycling, reading books, watching movies, and martial arts. 

"I love this school because it gives me flexibility, freedom, and teachers who are very supportive and resourceful." 

— Neil
My Experience Attending an Online School
My routine is quite busy, especially due to music practice. Online studies is a big help because it allows me to adjust my schedule. When I know I'll be busy with music practice or have a performance in the morning, I can study in the afternoon or evening. Whatever I've achieved so far in music, it's largely due to the flexibility of California Connections Academy.   
Online discussions have been my favorite experience at Connections Academy®. I love interacting with other students — it allows me to socialize with them and learn from them. 
Connections Academy has great counselors who are very supportive. They help students choose their goals and guide them along the way. Although I have not yet decided on my college major, I'll probably go for a music degree. My goal is to become a professional musician, composer, singer, and actor. One day, I even hope to direct movies."