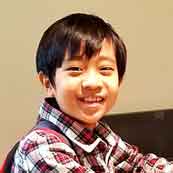 "I like that California Connections Academy is an online school, which means I can do my schoolwork anywhere with an internet signal. That means I can still work when my family and I are going on a trip. Also, since I can work at home, I can get guidance from my parents, who help me understand the questions I got wrong.
One of my favorite subjects is math because I can learn methods and functions that allow me to code more efficiently or allow me to figure out certain problems. I usually send WebMail messages to my teachers when I don't understand a subject. They are always open to questions and help me learn more about topics that are hard for me.

"I like California Connections Academy because it allows me to have a more flexible schedule, meaning I have more time to work on my coding skills."

— Adler
I like how I can stay in touch with my friends. I see some of my friends in the language arts LiveLesson sessions. We chat before the actual lesson starts and after it ends. I occasionally meet up with my friends at the library to complete activities. After I graduate, I want to work on more advanced types of games and technology, maybe in the categories of AI and VR/AR. I want to help develop in those categories, making them more realistic and advanced."